If you're a future hawk, make sure you've signed up to attend one of our QuickStart events! This is the time for new students to enroll in classes and meet our faculty. QuickStart can be a great social icebreaker to help students introduce themselves to their future faculty and fellow students.
At our most recent QuickStart we spoke with Kelvin Shealey, an incoming freshman who's majoring in the Associate of Arts program, chose Hocking College because he "felt like it was a great new start" for him.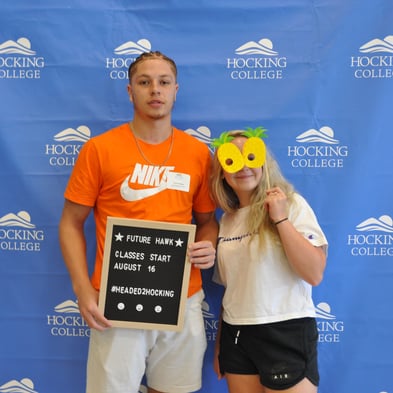 Shealey's experience at QuickStart left a lasting impression on him, especially after listening to an inspiring speech by the college's president, Dr. Young. In particular, Shealey appreciated and admired Dr. Young's energy and enthusiasm.
"It was great. I really felt like the President wanted me to be there," Shealey said.
QuickStart events at Hocking College are convenient one-stop experiences that allow students and parents to accomplish several tasks in just a few hours, such as:
Sign up for classes.
Explore electronic resources.
Discuss how to view financial aid awards
Discuss on-campus housing options and how to apply, if needed.
Check your account balance and explore payment options.
Connect with your program manager or dean.
Before attending QuickStart, students should:
Submit FAFSA and complete required documents.

If you are choosing to not use FAFSA, you will also need to verify your payment method.

Submit official college transcripts if applicable.
Join us for our next QuickStart!
Wednesday, July 28, 2021 from 10:15 a.m. until 1 p.m.
Friday, August 6, 2021 from 10:15 a.m. until 1 p.m
To sign up for a QuickStart event, contact our admissions team at 740-753-7050 or by email at admissions@hocking.edu.