According to Hocking College Nursing Program Manager Sarah Frazier, this spring, 32 students will graduate from the college's Registered Nursing program.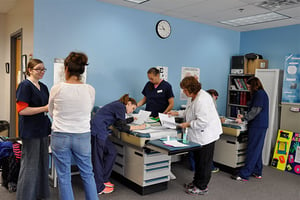 Any of these prospective graduates who want to pursue their bachelor's degree could consider continuing their education at Franklin University. Since the fall of 2019, Franklin University has offered special pricing to registered nursing students at their community college partners who want to achieve this very goal.
More about Franklin University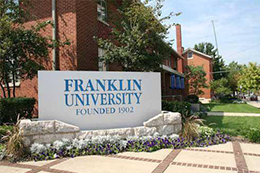 Founded in 1902 in Columbus, Ohio, Franklin University is a four-year nonprofit private school that specializes in helping non-traditional students realize their academic goals, making higher education accessible affordable and relevant. The university has partnerships with around 140 other community colleges -- including Hocking College -- and has more than 45,000 alumni scattered around the globe.
Tell me more about this program
Franklin's Registered Nursing to B.S. in Nursing Program is designed to accommodate working registered nurses, current students, graduates and employees of the college's partner schools. All of Franklin's nursing classes are six-week classes that allow students to complete three six-week courses in our 18-week semesters (fall & spring), focusing on only one class at a time. This option accommodates students working as nurses on different rotating shifts and days.
When do Franklin's summer and fall terms begin?
Franklin's summer term begins May 18, 2020, and lasts only 12 weeks. The fall term starts on August 17, 2020, and will be an 18 week semester. Summer and fall term registration are currently open at Franklin University.
What other benefits does this program offer?
Some of the additional benefits this program offers are as follows:

Free nursing textbooks
Special pricing ($300 per semester hour for all nursing and general education courses)
Rate will be locked in until students graduate if registering in 2020
100% online with flexibility
Transfer up to 90 hours in this 120-hour degree
Lower educational costs
Registered nurses can earn their B.S. in nursing in about one year
Instructors are experts in their field in-field experts
Franklin University's B.S. in Nursing (RN-BSN) program and the M.S. in Nursing are accredited by the Commission on Collegiate Nursing Education.
Nursing students at Hocking College who have any general education courses remaining in their bachelor's degree can still do them at Hocking College, paying our tuition rate instead of Franklin's.
For more information regarding Franklin's Registered Nurse to B.S. in Nursing Program, please visit franklin.edu/bsn.
Can I get my master's degree in nursing from Franklin University without a bachelor's degree?
Franklin University also offers nursing students the opportunity to pursue degrees that will allow them to transfer from being a registered nurse to a master's in nursing, a master's in nursing (Family Nurse Practitioner) or a master's in nursing (Nurse Administrator).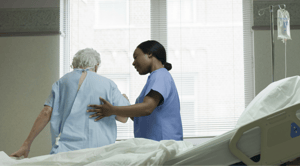 This program gives students a streamlined admission path that quickly gets them on track toward earning their M.S. in nursing – skipping the bachelor's degree all together – resulting in a tremendous savings of time and money.
Students will be required to complete a 12-week online bridge course as a gateway to whichever M.S. in Nursing program they prefer. They must complete the course with a "B" grade or better to be admitted to Franklin's M.S. in Nursing program.
Whom do I contact to get more information on any of Franklin's nursing program options?
Students wishing to pursue or learn more about any of these nursing degree programs should contact Franklin's Community College Regional Manager Greg Haskins, at either 740-297-9738 or transferinfo@franklin.edu.
Due to COVID-19 restrictions virtual office hours are only available via Zoom on Tuesday's from 1:00 pm to 4:00 pm. Click here to join!
However, students who aren't available for a virtual visitation at this specific time and day can also meet with Haskins over the phone or virtually on other dates and times by visiting his calendar link.