NELSONVILLE, Ohio—Hocking College's first graduation ceremony was held in a parking lot. Fifty years later, thanks to the COVID-19 pandemic, the ceremony was back outside.
The two-year community college celebrated 50 years of graduating students with a joint ceremony for Spring and Summer semester graduates Saturday, Aug. 8.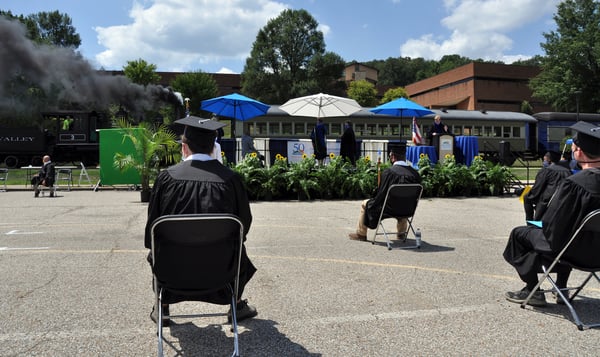 Three separate ceremonies were held: One each for the School of Allied Health and Nursing and Public Safety Services and the School of Natural Resources and a combined service for the schools of Arts, Business and Sciences and Workforce Development.
The 106 students who participated were seated six feet apart from each other in the parking lot in front of Oakley Hall on the college's Nelsonville campus. Guests for the graduates were behind them and asked to sit only with people they arrived at the ceremony with and stay at least six feet away from other groups.
Everyone attending the ceremony was required to wear a mask or face covering and underwent the college's coronavirus assessment protocol.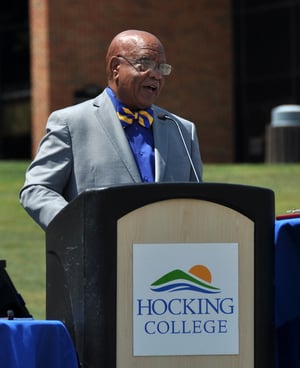 Jim Linthicum, a member of Hocking College's first graduating class, spoke at all three ceremonies. Linthicum was the first person in his family to graduate from college and the first African American student to graduate from Hocking College.
He spoke about the changes in the world since 1970 but reiterated that traits like faithfulness, self-discipline, commitment and kindness never change.
The following students received awards from the college:
Austyn Mikkel Hamper - Environmental Award
Audrey Janelle Reeder - Student Employment Award
Jordan M. Skates - Community Service Award
Joshua Christian Brown - Inspirational Achievement Award
Navae' Taylor - Student Life Award
Andrea Lee Chatfield - Trustee Award
Savannah Gaverick - Scholar Athlete
The following students received the President's Award:
Andrea Lee Chatfield
Michele Porter
Adam C. Rolf
Michaela Renée McRoberts
Joshua Christian Brown
Irene Jabu Abon
Savannah Gaverick
Morgan Haas
Audrey Janelle Reeder
Jordan M. Skates
Ryan Pendelton
LeeAnn Rahe
Austyn Hamper
The following students received the Veterans Award
Ryan Pendelton
LeeAnn Rahe
Adam Rolf