In honor of National Entrepreneurship Week, Hocking College hosted more than 100 special guests for a Regional Entrepreneurship Exposition (REX) on February 21 at The Lodge at Hocking College.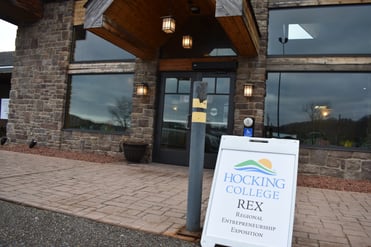 National Entrepreneurship Week is a congressionally-chartered initiative founded in 2006.
Dr. Betty Young, President of
Hocking College, welcomed the guests that included regional high school students, Hocking College students, and local and regional business owners.
Business owners who participated included:
Anique Russell, Too Good Eats
Erik Peterson, Fern Hollow Farm, LLC.
Chris Chmiel, Integration Acres
Shawn North, North Fitness Center and Maya Burrito
Jordan Rhodes, Rhodes Manufacturing
Alex Bandar, Columbus Idea Foundry
Finn Fuller, Hocking Hills App
The day-long event provided an opportunity for students and business owners to develop a Business Model Canvas (BMC) based on their own business concepts. The Business Model Canvas is a strategic management and startup template for developing new or documenting existing business models. It is a visual chart with elements describing a firm's or product's value proposition, infrastructure, customers, and finances.
Guest business owners shared specific strategies related to the BMC and how their businesses align with each of the sections of the BMC and worked directly with the high school teams to develop the components of the BMC.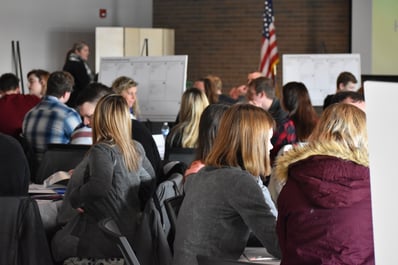 High school students from Logan High School, Nelsonville-York High School, Sheridan High School, Vinton County High School, and New Lexington High School joined with Hocking College students to work through the viability of business concepts that included two school stores, a Chinese restaurant and food truck, web-based game, outdoor adventure store, and winery. Each school will continue to develop the canvas with progress being shared through Hocking College.
As follow up to the REX, the College will be hosting a summer camp that will further engage high school aged students in entrepreneurship and leadership.
Special guest speakers included Dr. Rebecca Corbin, President and CEO of National Association for Community College Entrepreneurship and Toi Hershman, Regional Coordinator America's Entrepreneurial Schools, The National Consortium for Entrepreneurship Education who each spoke about entrepreneurial spirit and the importance of creating opportunities for student engagement with entrepreneurial concepts throughout their entire K-12 and college experiences.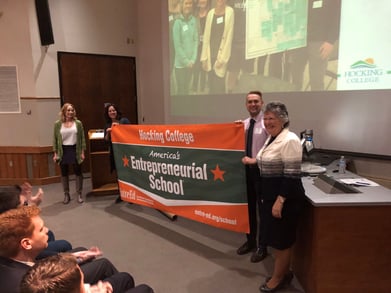 The REX is a continuation of the entrepreneurial focused activities that have been taking place at Hocking College for several years. Hocking College was honored to receive recognition from the National Consortium for Entrepreneurship Education during the REX as America's Entrepreneurial School, the first community college to receive such recognition.