The Fashion Design & Retail Merchandising (FDRM) Program at Hocking College hosted a sold-out Inaugural Fashion Show on Friday, April 22, at the Lodge in Nelsonville, OH. Coral Wedel, FDRM Program Manager, said that the fashion show was meant to "showcase student work in design, styling, business concept, planning and production of a live fashion show."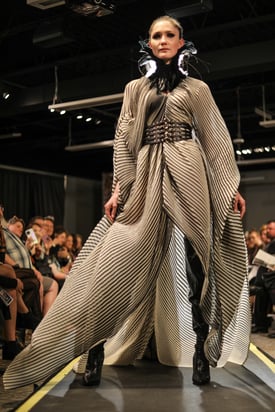 Wedel is very proud of her students and the hard work and creativity they put into this event. The fashion show was a concept of hers from the very beginning of developing the Fashion Design & Retail Merchandising Program. These first students, the inaugural students, helped her develop and build this program. This show is the culmination of the FDRM degree, and Wedel hopes it becomes an annual experience for students, the community, and the state.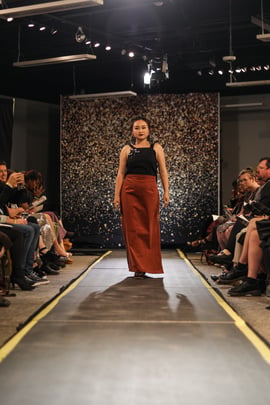 The strategic partners for the show were Columbus Fashion Council and Passport 2 Fashion. These two organizations helped make the production of the Inaugural Fashion Show a reality. Columbus Fashion Council is a nonprofit organization that gives fashion design scholarships and supports the continued growth of designers in Central Ohio. Passport 2 Fashion promotes that regardless of race, size, ethnicity, or how one identifies oneself, fashion is for everyone. (DE-FI) Global INC., Triple T Studios, and Athens Impact Socially Responsible Investments sponsored the show. All proceeds from ticket sales and sponsorships went to the Hocking College Foundation towards a Fashion Design & Retail Merchandising scholarship, to support future generations of Hocking College students.
Students from the FDRM program had the opportunity to showcase the ideas and concepts they've been working on all year. First-year Fashion Design students focused this year on building fundamental skills, learning industry standards, professionalism, and working in a collaborative environment. They each created one look for the show. These students were Lindsey Reed, Travell Adams, Fatima Feika, Alexis Martinez, Labriar Franklin-Paige, and Lily Knapp.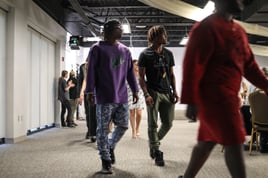 Second-year FDRM students each created a three-piece collection for a brand they had developed. They spent the year learning about brand development, how to plan out a collection, then the production and refinement of that collection.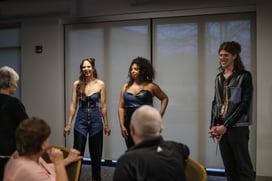 Tony Pope created the concept brand: No Limits and his collection title was "ArtisticVandalism." Lauren Parrish created the concept brand: Blue Marmalade and her collection title was "Revival." Jazmin Cruz created the concept brand under her name Jazmin Cruz, and her collection title was "A Dangerous Woman."
Pope, Parrish, and Cruz were all nominated for the Fashion Scholarship Fund (FSF) through the VF Foundation. The scholarship is an FSF Community College Pilot Program where four scholars from community colleges will be selected to complete a 10-week pre-professional program this summer. This program will be designed for the needs of those who attend, and all programming will be free. The goal is to mentor students along with networking, expose them to the many different jobs in the industry, and allow them the opportunity to practice their professional skills and future eligibility for FSF Scholarships.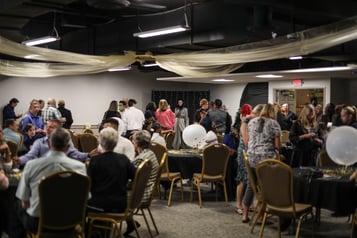 For more information about the Fashion Design and Retail Merchandising Program, contact the admissions office by email at admissions@hocking.edu or call 740-753-7050.