As schools and businesses worldwide use social distancing, face masks and remote learning to slow the spread of coronavirus, Hocking College is going a step further: cleaning the air.
The college purchased and installed 683 air purification units early in the autumn semester. Contractors from TP Mechanical and the college's facilities staff installed Nu-Calgon iWave and Global Plasma Systems air purifiers in the HVAC systems of 27 buildings over five weeks beginning Aug. 25, in the college's residence halls before moving on to buildings on the main campus and outlying facilities and campuses.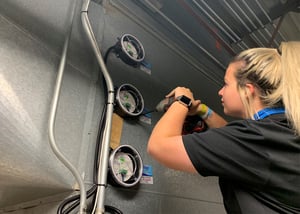 "They work by creating ions through the use of energy," Matt Anderson, from TP Mechanical, said. "The ions travel through the HVAC system and are delivered to all the occupied spaces throughout the campus to help purify the air."
Studies conducted by testing labs show that the purifiers reduce the amount of SARS-CoV-2, the virus that causes COVID-19, by 84.2% after 10 minutes and 99.4% after 30 minutes.
"By introducing an abundance of ions into the space, we are creating a safe and healthy environment for all students, faculty, staff and visitors in all of Hocking College's buildings," Anderson explained.
Nu-Calgon's promotional information explains the process this way: "When the (positive and negative) ions come in contact with viruses, bacteria or mold, their reaction decomposes surface proteins of these pathogens, thereby inhibiting their activity. The ions also attach to allergens like pollen and other particles like dust and dander, causing them to band together until they are large enough to be caught by your ventilation system's air filter."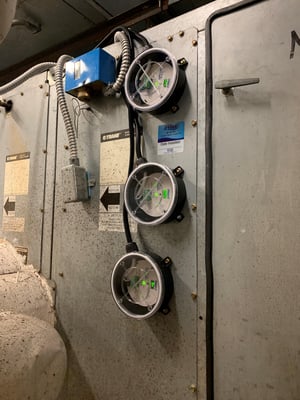 Anderson said the ions produced by the units are "non-harmful" and don't produce ozone. He added that the equipment is designed to last more than 10 years.
After the pandemic is over, the college will still benefit from the devices.
"The ions will continue to help improve overall indoor air quality by reducing viruses (including the flu virus), mold, bacteria, allergens and odors," Anderson explained. "By using this technology, year-round Hocking College is creating a safe and healthy learning and living environment."