When the only thing standing in the way of Travis Cooper pursuing a management position was a college degree, the school he chose to help him realize that goal was Hocking College.
Originally from Beavercreek, Ohio, Cooper has been employed in the water treatment industry for nearly 15 years. Without any previous work experience, his career began by taking an entry-level worker position at a pretreatment facility.
"That job gave me a lot of first-hand experience that has been valuable to me over the years," he said.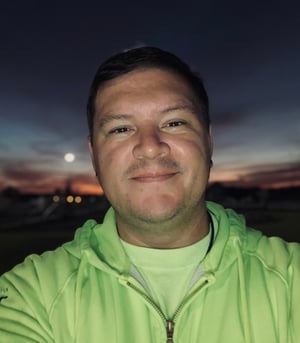 Since then, Cooper has held various other positions while working for several different municipalities. Over time, he was able to work his way up to a wastewater supervisor position. By then Cooper had earned his class three wastewater operator's license as well as a class two water supply license and began writing safety-oriented articles The Buckeye Bulletin — a water treatment-oriented magazine geared professionals in the industry published by the Ohio Water Environment Association.
But to go any further in his career Cooper would need a college degree.
Then Cooper received an e-mail from Kelly Barron-Holcomb, the Water and Wastewater Management program manager for Hocking College, that peaked his interest.
Barron-Holcomb's email explained the college's water and wastewater degree program and how it could help him continue to grow in his career.
A phone call with Barron-Holcomb answered Cooper's questions about the program and they talked about the benefits of the program.
"The fact that I was able to go fully online and use my EPA licensing toward class credits really pushed me into the program," Cooper said.
Afterward, Barron-Holcomb walked Cooper through the admissions process and "made everything convenient to access and complete" for him
Once his classes began, Cooper was impressed by the hands-on approach to the classes.
"This program gets you out in the field to observe various water areas and construction sites," he explained.
By the time he graduates in May 2021, Cooper is certain he'll be well qualified to secure a management-level position.
He's also contemplating pursuing a second college degree and getting a Class 4 EPA Operators License.
"I tell everyone I know that's having difficulty finding a career path to look into water and wastewater," Cooper said of his chosen career. "It has great benefits, great pay and is a great way to help clean up the environment!"
How can I get into the water treatment field?
Currently, water treatment positions are in high demand in Ohio and throughout the country. Hocking College's Water and Wastewater Management program gives people interested in the field the ability to get a leg up on their competition, make a mid-career change or, like Cooper, provide the extra knowledge to get higher-level positions in the industry.
In just two years, students can graduate with an Associate of Technical Study in Natural Resources: Major in Water and Wastewater Management degree.
More reasons to get your degree at Hocking College
The only thing more important than deciding on your dream career path is finding the right school to help you fulfill your dream. When you choose to come to Hocking College for our Water and Wastewater Management program you'll get the following advantages:
The program was designed by experienced water and wastewater personnel.

The program is

Ohio EPA-

approved for experience credit as an equivalent to a four-year bachelor's degree.

All courses can be completed online or through a combination of online and in-person courses courses in the curriculum are offered online.

Students can maximize their marketability by continuing their education.

Students who want to advance in their career can easily get the additional training they need.

If you already have an Ohio EPA water or wastewater certification you can receive credit toward your degree.

Ohio EPA certified operators can receive contact hours.
How can I find out more about this program?
Those interested in learning more about Hocking College's Water and Wastewater Management program can contact the Program Manager, Kelly Barron-Holcomb, directly by email at barron-holcombk@hocking.edu or by phone at 740-753-6275.