NOTE: This article was originally written by Grace Warner for the Logan Daily News on March 14, 2019.
---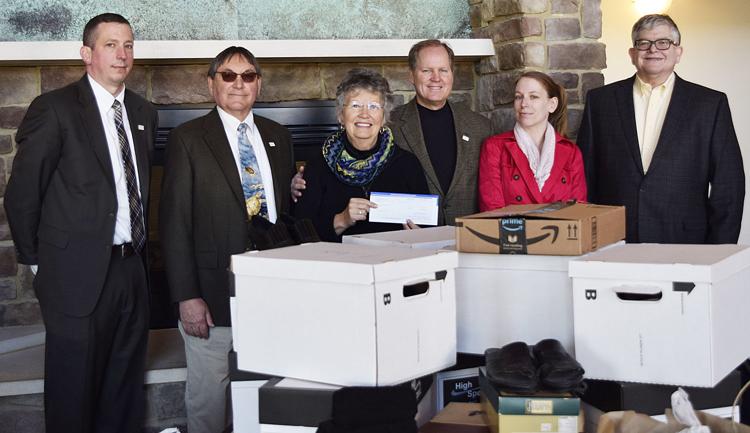 Century National Bank has made two large contributions to Hocking College this week for students to succeed throughout their education and beyond.
On Monday, March 11, the President, Senior Vice President, Vice President and Manager for Century National Bank all met to make a monetary donation toward the rehabilitation of the Hocking College Lodge. The first part of the renovation was completed to upgrade the conference rooms and lobby, but the next phase will be adding 42 rooms for guests to stay.
"Several years ago it became disrepair and was closed and gutted. Now we're in the process of rebuilding it and bringing it back to life. Plus, this community, Nelsonville, really doesn't have any rooms for events — of course, with the conference center here we don't have any place for them to stay if they want to have small conferences," explained Dr. Betty Young, President of Hocking College.
"We always strive to become heavily invested in the communities for which we serve. Century has an office in Logan and Athens so we surround Nelsonville," added Vice President of Century National Bank, Steve Haren.
"After a meeting with Dr. Young, we viewed it as a heck of an opportunity to partner with a great institution to help breathe some life back into a beautiful building and also make an investment in Hocking College," he shared.
Hocking College is all about creating live-learning labs for students to experience real world scenarios. For the lodge, the Arts and Design students will be making glass decorations such as vases, lamps or sink bowls. The Timber Harvesting and Tree Care Certificate students will be taking in trees from the college's land and Construction Management students will work with a local business to make furniture and more for their experience.
Currently, the lodge has roughly three conference rooms and is used to house a real-world experience for the Culinary Arts students, but with the completion of rooms the Hotel and Restaurant Management students will have experience too.
According to Young, the college received state money to re-do the first half of the lodge and now that the plans have been finalized for the second phase, the project will go out for bid this spring with completion around the fall of 2020.
"I think it's a pretty exciting concept because, again, just having a facility in Nelsonville for outside companies to come for their conferences and be able to stay is going to be an economic boost for the area, but it also — like everything we do at Hocking College — it would involve students from various programs getting some hands on training," mentioned Tim Brunicardi, executive director of marketing and public and community relations.
For the next three years, Century National Bank will be donating $10,000 for a total of $30,000 toward the renovation. The first installment was made Monday while everyone also helped unload three vehicles full of business attire clothing.
Carloads of shoes, ties, belts, jackets, shirts, pants and more came through the doors for the college's Career Closet for students to use for their interviews. The first-year student requirements have been revamped to include a career fair, however, Danita Reynolds, Director of the Career and University, quickly realized there was a greater need in order for this to happen.
"What we've found out through doing that is the students didn't have the clothes they needed for the career fair and so we decided we needed to do something about that," expressed Reynolds.
The Career Closet opened in October of 2018, and with the first career fair taking place the following month, it was perfect timing. Reynolds mentioned they've had a number of students coming in getting their first suit ever and also learning how to properly dress for interviews.
The Career Closet has been in use so much that they began to run out of clothes for everyone. That's when Bill Rinehart, manager of Century National Bank in Logan, decided to get involved.
Rinehart is a part of the Hocking College Foundation Board, whose goal is to support the students in a variety of ways. He proposed it to his boss, President of Century National Bank, Pat Nash, and they decided to host a clothing drive.
"When I went to the career fair, I saw a lot of my outfits going in and out of the career fair, so that was kind of fun for me," noted Reynolds, who's excited to see this project continue to grow and benefit the students.