Last month there was an addition to the Hocking College family in the form of a new female baby foal. At approximately 1 a.m. on Tuesday, April 9, Blue became a dam when she gave birth to filly, Saphira, at the Hocking College horse stables. Saphira's registered name is Out of The Blue.
What is a Foal?
All newborn horses are considered foals until they turn a year old. A male foal is called a colt, while a female foal is called a filly. When colts and fillies stop nursing they become weanlings. Foals are totally dependent on their mother for nourishment, companionship and learning how to interact with fellow horses, and are naturally playful, energetic and able to keep up with the rest of a herd within hours of birth.
Where Can I Get the Training I Need to Enter the Equine Industry?
Hocking College in Nelsonville, OH offers three equine programs, including:
The campus is home to more than 50 horses and has two outdoor pastures with three-sided sheds, a large barn with almost 30 stalls, wash racks, a feed room, tack room and office, and a smaller barn with tack/feed room and foaling stalls.
What Will I Learn in the
Equine Health & Complementary Therapies Program?
Hocking College's Equine Health and Complementary Therapies Program was developed to meet the current demand for qualified horse care technicians and focuses on the healthcare component of the horse industry.
The school's smaller class sizes will benefit students by providing them more one-on-one time with their instructors as they cover subjects ranging from horse nutrition and physiology, to foal care and non-tradition complementary therapies such as equine acupressure and massage.
This program also offers classes for students planning to become entrepreneurs. These classes cover the accounting, management, and marketing aspects of running an equine business and will provide students with the business-based background they'll need to go into business for themselves.
What Will I Learn in the Farrier Science & Business Program?
A farrier is an equine professional whose job it is to shoe horses and make sure their hooves consistently remain in the best shape possible.
Hocking College currently offers one of the very few farrier science associate degree programs in the United States. The Farrier Science and Business Program provides students with a unique combination of both hands-on-oriented farrier and business management skills.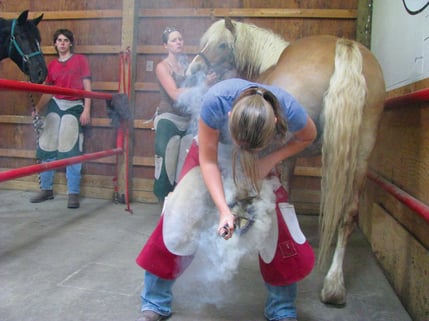 Since many professional farriers are self-employed,
the business-oriented portion of this program will equip students with management, accounting, and marketing skills specific to the equine industry.
Students who pursue an Associate of Technical Study in Farrier Science & Business degree at Hocking College will assuredly appreciate the school's smaller class sizes. This aspect gives students the crucial one-on-one time with their instructors they'll need to develop the above skills.
What Will I Learn in the Wilderness Horsemanship Program?
Hocking College's Wilderness Horsemanship Program was created to fill the ever-increasing need for qualified employees in the equine industry.
In this program, students will gain hands-on experience in working with horses, mules, and people in wilderness settings. In addition, they will learn how to drive wagons through various terrain, how to teach new students riding techniques, and how to properly use and repair riding equipment.
Students in this program will also be able to:
Perform proper shoeing techniques
Apply business skills as they pertain to the equine industry
Identify, maintain, and use safety procedures
Perform safety inspection procedures
Properly feed/water horses, groom/bathe horses, and clean stalls
Provide basic horse health care including preventive health care
Apply knowledge of horse anatomy, teeth identification, conformation and color, and health care
Use wilderness riding skills including ponying
Handle horses in varying terrains while they're walking, trotting, and cantering
Students pursuing an Associate of Applied Science in Wilderness Horsemanship degree can also opt to take elective courses such as equine health care, equine massage, and farrier courses.
Where Can I Get More Information on These Programs?
For more information on Hocking College's Equine Programs, contact Equine Science Program Manager, Bethany Siehr, by email at siehrb@hocking.edu or by phone at (740) 753-6282.