Hannah Guada joins Hocking College as the new Vice President of Student Affairs and Chief Diversity and Inclusion Officer. Hannah's journey in higher education began in New York City in the aftermath of 9/11. One week after the attack, she started at Nyack College Manhattan Center (NCMC) in lower Manhattan.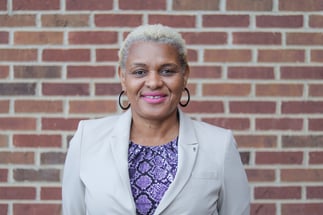 She was not aware that she was embarking on a mission to bring compassion to a population of people thirsting for emotional support. The college's campus was a few short blocks from the World Trade Center (WTC) site; many faculty, students and staff witnessed the attack and the devastation. Working there during that time allowed her to see how her efforts supported students, by just the simple act of listening and showing compassion. They came for guidance with appeals, academic issues, registration and financial aid to help them remain in school. They were desperate for a sense of normalcy.
Nyack College is a small campus and many students found themselves in her office. Word got around that Hannah could help. In actuality, she became a beacon of hope because she created an atmosphere of caring that many students flocked to in such a highly stressful environment. She supported them by identifying services they needed to persist in college. Since then, Hannah has worked in many administrative roles in higher education, usually with a focus on student services.
Hannah is originally from the twin Island of Trinidad and Tobago and migrated to the United States to further her education. She lived in NYC for 21 years; Houston, Texas for 12 years and now Nelsonville, Ohio. She is a country girl at heart, who knows how to adapt to the environment in which she finds herself. Right now, her focus is to readjust to the winter climate and come to terms with the possibility of encountering a couple of snakes as the weather warms.
Hannah has a Bachelor of Science in Business Administration from Nyack College; a Master of Science in Organizational Leadership from Cairn University in Pennsylvania, and she is in the dissertation phase of a doctoral degree from the University of Phoenix.
She has held many titles in her past. Positions include Assistant to the Academic Dean and Associate Vice President, Higher Education Officer, Chief of Staff, Project Manager, Research Administration Associate to name a few. Each of these roles was instrumental in providing her with skills that led her to Hocking College.
"Hocking College is special", Guada says: "many offerings are unique to this region". As she speaks with students each day and hears what programs they are enrolled in, she is continuously surprised; Hocking has many programs unheard of in other colleges around the country. She listens to these young people's dreams and goals and sees that they have a desire to earn a living without the fear of not being able to afford a life. They want to change their life circumstances. Hannah believes vocational training is the future of the American workforce. She sees the need for workers to perform the task of building our country and supporting our citizens. After graduating from our programs, students can earn living wages to take care of themselves and their loved ones. She wants to be part of the legacy of training tomorrow's future workers.
As the Vice President of Student Affairs and the Chief Diversity and Inclusion Officer, she will lead a team of passionate and qualified people to serve students by providing the non-academic support they need to persist. The goal is to help them graduate from Hocking College. Guada says "My role is to accomplish the Hocking College mission through support services. My vision is to support students by delivering services that would inspire them to take responsibility for their lives by learning life skills that would help them make critical life decisions."
Hannah is thrilled to work with a great group of people to advance the mission of Hocking College. She says "We have a mission that is universal and relevant, and I am excited about contributing to the good work faculty and staff are already accomplishing. Additionally, we have local residents vested in the success of our students and the college in general. Having the confidence and support of the community adds value to the work we do at the college."
Hannah welcomes and appreciates the support of the campus and the local community. She and her happy furry buddy – Lucky are happy to be here! "If you see us around, feel free to introduce yourself", she says.