During National Physical Therapy Month, we're putting the spotlight on our new Physical Therapist Assistant program manager Sam Coppoletti.
The purpose of National Physical Therapy Month is to celebrate this profession and acknowledge the contributions these professionals make by helping their patients overcome physical pain, address mobility issues and live healthier, more active lives.
Meet our Program Manager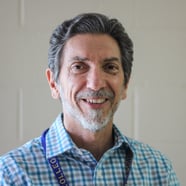 Sam Coppoletti grew up in the upper Midwest near Wisconsin in Rockford, Illinois. More recently, he relocated to Athens, OH from Cincinnati.
His past interactions with the physical therapists who had cared for his mother after her stroke, his sister after her hip replacement surgery, his father when he broke his arm, and his own history of recovering from sports-related injuries motivated Coppoletti to consider going into this line of work himself.
The main factor that made him consider going into physical therapy was the sense of positivity the people he had encountered in this profession embodied. He recalled how the physical therapy professionals he has met over the years always seemed "genuine, helpful, and upbeat."
What are the duties of a PTA?
Physical therapist assistants perform the following duties: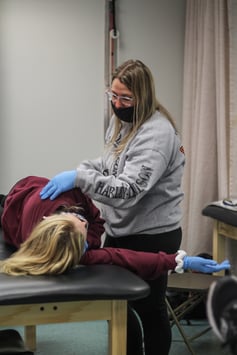 Assist patients in regaining movement and managing pain.
Observe and document their patient's recovery process.
Educate the patient's family about their treatment and recovery process.
Assist the physical therapist in a patient's treatment planning process.
Perform therapeutic massage techniques.
Do ultrasound therapy.
Help rehabilitate amputees.
Make patients aware of symptoms that indicate changes need to be made in their therapy.
What's the job outlook for PTAs?
According to The U.S. Bureau of Labor Statistics, the following figures represent the job outlook for physical therapy assistants:
2019 Median Pay: $48,990
Current Job Outlook: Up 29%
Projected Employment Change 2019-2029: 43,000 New positions
How can I get into this profession?
Hocking College in Nelsonville, Ohio has a physical therapist assistant program. In only two years, students can graduate with an Associate of Applied Science in Physical Therapist Assistant degree.
Coppoletti's goals for Hocking College's Physical Therapy Assistant program include, "Taking it to the next level, integrating it with our programs on-campus as well as partnering with the community, building enrollment and retention while keeping student performance and employment high."