Scott A. Lindstrom is the program manager for Hocking College's new Heating, Ventilation and Air Conditioning degree program scheduled to debut in Autumn 2020.
Originally from Yellow Springs, Ohio, Lindstrom earned his Associate of Applied Science degree in HVAC/ Engineering in 1995 from Northwestern College in Lima, Ohio.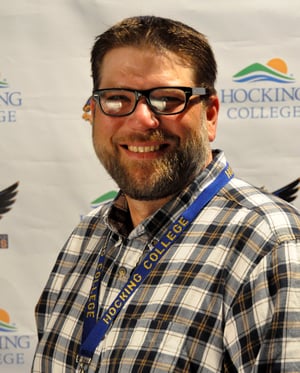 After graduating, he started his own HVAC/plumbing company. He began with one van and two employees and grew his business to the point where it required nine trucks and eighteen workers.The majority of the projects Lindstrom's company worked on involved collaborating with general contractors on large commercial projects. Including some for high-profile companies like Tractor Supply Company, Peebles department stores, Coca-Cola, Texas Roadhouse and Dollar Tree.
In 2008, Lindstrom and his wife Shannon took a risk and started another company, Green Tech Energy Solutions. In keeping with the Lindstrom's small-town roots, the company prioritized treating its customers fairly, and not cutting corners or charging a service call fee for going to prospective clients' homes.
Some of the services GTES offered ranged from installations and repairs of air duct cleaning systems and appliances to performing home inspections and installing solar panels.
Lindstrom also performed solar projects for both Cedarville and Urbana universities and oversaw each project from the proposal stage to groundbreaking ceremony to completion.
GTES became so successful that the Lindstrom's were inspired to form a sister company in 2009 called Yellow Springs Renewable Energy. This venture specialized in educating the community about the advantages of the renewable energy revolution.
In 2013, YSRE embarked on a campaign to inspire the entire village of Yellow Springs to "go green."
As circumstances changed, Lindstrom and his family decided to move to Athens, Ohio, where he accepted a position as the service manager for Mountain Mechanical in 2015.
With more than 27 years of experience in the HVAC industry, Lindstrom says he's eager to pass on the skills and knowledge he's obtained to his students. Some of the topics he plans to cover include the business aspect of the HVAC industry and how to be an effective team leader.
While this may be his first foray into teaching, Lindstrom noted that "this was a path that I always knew I wanted to take one day."
More about Hocking College HVAC Program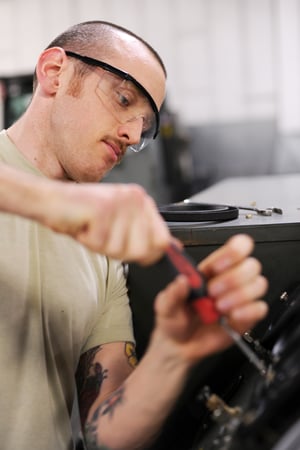 As one of the in-demand jobs nationally and specifically in Ohio with job growth projected at 15%.
Beginning in the Autumn 2020 semester, students in Hocking College's new HVAC program will receive training in heating, ventilation, air conditioning and refrigeration, working towards industry-recognized certifications and troubleshooting techniques to be job-ready upon graduation.
Students will gain on-the-job training from industry partners throughout the curriculum as well as in lab scenario training on installation and maintenance.
For more information on Hocking College's HVAC degree program, contact Scott A. Lindstrom by email at lindstroms@hocking.edu.