After leaving the armed services, many veterans choose to attend college so they can learn additional skills that make them more attractive to private sector companies. Veterans have some benefits that can help complete two-year certificate programs in subjects like nursing, public safety, information technology and business.
Before you apply to a school, you should learn more about college for veterans and your benefits, so you can decide what educational path best fits your needs.
Veterans Can Use G.I. Bill Benefits to Pay for College
Veterans can take advantage of several G.I. Bill benefits managed by the U.S. Department of Veterans Affairs. As a veteran, the VA will pay for up to 36 months of your education.
College tuition benefits vary depending on when you joined the military. The Post-9/11 G.I. Bill pays tuition directly to your college. Those who joined the military before 9/11 receive cash that they must use to pay for tuition and living expenses while attending college.
Veterans who enlisted the military before 9/11 need to use their tuition reimbursement benefits within 10 years of active duty. Those who joined after 9/11 have up to 15 years to use their benefits.
You Must Apply to Receive Tuition Assistance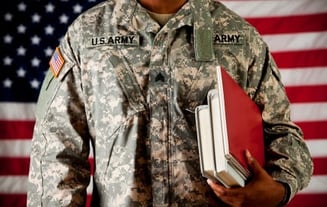 You don't receive VA education benefits automatically. You must apply for benefits before you can use them. If you already know which benefit you want to use, then you can apply online.
Otherwise, it makes sense to talk to a VA regional office so you can get the information about college for veterans and you can make a wise decision.
Veterans Can Take Classes Full-Time or Part-Time
Adults who attend college often face difficulties that younger students don't experience. For instance, you may have a spouse or children that you need to support while finishing a certificate program.
If you worry that attending college full-time will prevent you from fulfilling your other obligations, then you may want to take a few hours of classes at a time. The number of hours that you take will determine your enrollment status. You can use the following list to understand your status:
0 to 2 hours equal ¼ time

3 to 5 hours equal less than ½ time
6 to 8 hours equal ½ time
9 to 11 hours equal ¾ time
12 hours or more equal full-time
Taking fewer hours at a time means that you will need to use more years to complete your program. While going to school part-time can delay your plans, it may give you a chance to earn better grades while supporting your family.
College Scholarship Opportunities for Veterans
In addition to receiving financial assistance from the VA, many veterans qualify for scholarship opportunities that remain unavailable to civilians. The amount of money that you can receive varies significantly between scholarship opportunities. Some will pay a a few hundred dollars while others provide thousands of dollars.
Research scholarship options so you can receive additional financial assistance while completing your two-year certificate program.
Attending college has become an essential part of building a successful career. Combining a two-year certificate with military experience could make you an attractive applicant for companies operating in a wide range of industries. As a veteran, you may qualify for assistance that makes it easier for you to reach your education goals so you can start a rewarding career.