Chris Hedges will be the Program Manager for Hocking College's new Cabinetmaking and Architectural Millwork program.
Originally from Circleville, Ohio, Hedges grew up in a home that showcased an assortment of antiques — all of which were hand-crafted by his ancestors.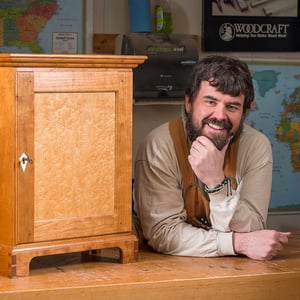 After high school, Hedges went on to earn both a bachelor's degree in philosophy and a master's degree in sociology from Ohio University. During his second year as a graduate student, Hedges got an opportunity to teach at OU's Zanesville campus and remained there for four years.
Shortly before his daughter Aedan was born, Hedges was inspired to create a keepsake piece of furniture for her to pass down to her children and grandchildren one day. The result was a Craftsman-style dresser that ignited his passion for woodworking.
The experience motivated Hedges to enroll in the University of Rio Grande's Fine Woodworking program. There, he refined his talent for using both traditional and contemporary woodworking techniques. His efforts led him to win multiple awards at the 2007 Fresh Wood Student Design Competition.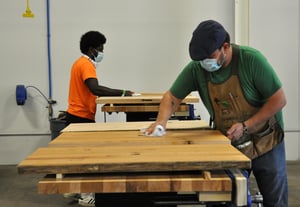 In 2008, Hedges relocated to Knoxville, Tennessee. There, he set up a cabinet and furniture making shop in the basement of his home. It eventually evolved into a fully operational furniture studio.
In 2014 he returned to Athens, Ohio. Since then, he's been a contributing writer for Woodcraft Magazine and opened Aedan Works in Nelsonville, Ohio.
Aedan Works is an independently run furniture store that specializes in bench-crafted, custom design cabinets and furniture.
Although this will be his first experience being a program manager, Hedges has been teaching woodworking classes in one form or another for the past decade.
"Attention to detail, creativity, a willingness to learn and the ability to self-determine" are the qualities Hedges says will allow students to be successful in his classes.
He added that prospective students would work with a range of industry-standard machinery like table saws, shapers and moulders, and learn how to work with traditional hand tools such as saws and hand planes.
Also, students can either earn industry-recognized certificates through a leisure learning pathway or work toward a two-year degree with the possibility of earning a third-year internship/artist-in-residency position.
Overall, Hedges hopes his program will "establish Hocking College as a nationally recognized educational program with a mission that focuses on training both the mind and the hand."
According to Hocking College's Dean of Community Outreach and Workforce Development, Sean Terrell, classes for the Cabinetmaking and Architectural Millwork program are scheduled to begin in Autumn 2021.
Terrell said that students could begin enrolling in the program once it receives HLC approval. He noted that this process could be completed as early as February 2021.
For more information on Hocking College's Cabinetmaking and Architectural Millwork program, contact Program Manager Chris Hedges at hedgesc38563@hocking.edu.