One deserving student will earn a two-year full-tuition scholarship in the memory of a beloved Ohio brewer.
After Patrick Gangwer died in 2019, his friends and family wanted to create a way to honor his memory and his passion for brewing. To do that, they've developed the Patrick Gangwer Brewing Scholarship with the Hocking College Foundation.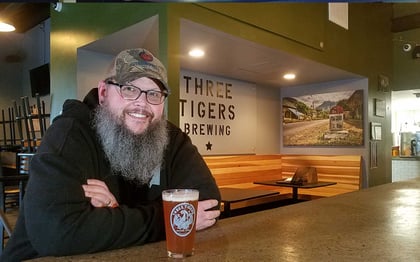 The scholarship covers tuition for four semesters while the recipient completes their associate degree in Hocking College's Fermentation Science: Brewing program.
Hocking College was chosen because it's the only college in central Ohio that offers a brewing program, Rob Cathcart, a friend of Gangwer's from his time at Three Tigers Brewing in Granville, Ohio, where Gangwer was the head brewer from 2017 until his death.
Cathcart said another reason for choosing Hocking College was because of its proximity to Jackie O's Brewery in Athens. Gangwer got his introduction to craft brewing at Jackie O's after years of being an award-winning homebrewer. His first job as a brewer came at Kindred Brewing in Gahanna in 2015.
"He would go nuts over this," Cathcart said when asked how Gangwer would react to having a scholarship established in his memory. The group establishing the scholarship hopes to create an endowment to annually support a brewing student at Hocking College.
To be eligible for the scholarship, recipients must be a new, full-time student at Hocking College and enrolled in the Fermentation Science: Brewing program. They must also be a high school graduate and maintain a 3.0 GPA while at Hocking College. Part of the application process includes writing a 400-500 word essay addressing their interest in pursuing a career in brewing and their career goals.
The deadline to apply is July 1.
To apply, fill out the online application at www.hocking.edu/patrick-gangwer-scholarship.
For more information about Gangwer, the scholarship and how to donate, visit www.threetigersbrewing.com/gangwarriors.
"Patrick lives on to be an inspiration to emerging craft brewers through this scholarship," Cathcart said. "May his love of brewing science live on forever in the graduates who complete this program."