February is National Children's Dental Health Month. This observance began in 1941 to bring attention to the importance of oral health. All month long, the American Dental Association (ADA) promotes the benefits of good oral hygiene. Starting children on a dental hygiene routine as early as two years old is crucial for creating a life-long habit. Cavities are the most common disease among children. The ADA states that "45% of American children between the ages of 2 and 19 experience tooth decay in their primary or permanent teeth."
2022 Theme
This year's campaign theme is "Sealants Make Sense." Sealants are a quick and painless protective coating applied to molars to help prevent cavities. The Hocking College Dental Hygiene Clinic provides this service at a reduced cost.
Hands-on Learning
The clinic is open to the public and staffed by Hocking College Dental Hygiene Students. These students have completed training on test mannequins and each other. Once they begin working in the clinic, students gain valuable hands-on training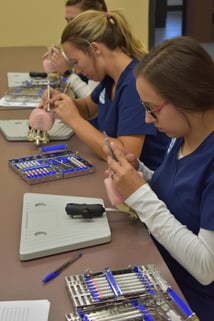 while under the supervision of a dental hygiene faculty member and supervising dentist. While working at the clinic students meet the requirements needed to become registered dental hygienists.
Services Offered
The clinic offers exams, x-rays, sealants, custom sports guards, and dental cleaning services at a reduced cost. The clinic prides itself on providing patients with high-quality care. They abide by all HIPAA laws and policies. All patients must complete new patient forms before obtaining any services at the clinic.
For information about The Hocking College Dental Hygiene Clinic hours, services and rates, please call 740-753-7540 or visit the clinic website.
Start Your Career
Learn more about the Dental Hygiene Program at Hocking College and discover how you can start your journey toward a rewarding career.