Last Thursday, a young bald eagle was released back into the wild on the Hocking College campus.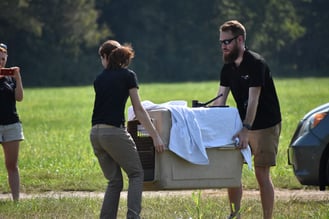 This event was observed by Hocking College students and faculty members, as well as some personnel from the Ohio Wildlife Center and representatives from several local newspapers.
Several minutes after the door of the eagle's carrier was opened, the rehabilitated bird eventually stepped outside, spread its wings, and flew into some nearby trees.
---
Missed the eagle release? Check out the video on
our
YouTube channel
.

---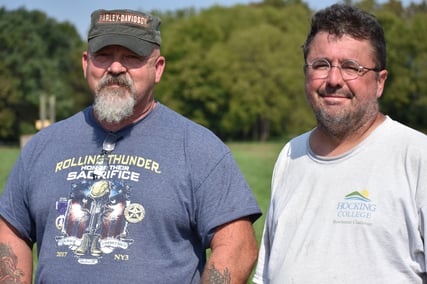 The eagle's pathway to recovery begin when it was first discovered by an Ohio Department of Transportation worker named Stony Joy (pictured left). At the time, Joy was mowing lawns along the Route 33 bypass to Nelsonville, just inside the Hocking County line, when he noticed the eagle sitting in some brush. When Joy first saw the bird, he saw that it was weak and in distress. Next, he contacted Hocking College Wildlife Management instructor, David Sagan (pictured right), who also runs the Hocking College Nature Center.
Sagan then called the Ohio Department of Natural Resources and informed them that he and two of his students were going to transport the eagle to a facility ran by the Ohio Wildlife Center in Columbus, Ohio.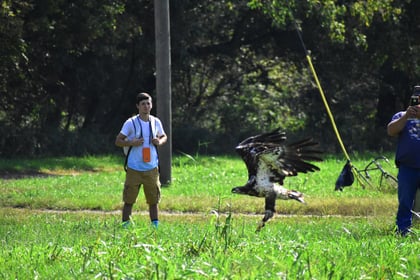 Although the eagle managed to avoid suffering any major wing damage, it did need some IV fluids infused with B12 vitamins along with some nutritional supplements. As a result of the eagle's weakened condition, it needed to be tube fed. After several months of treatment, the bird was able to regain its strength and begin the rehabilitation process.
Hocking College President Dr. Betty Young was among those present when the newly released eagle finally spread its wings and flew into some trees next to the Hocking River.
This unique story was circulated by AP News and US News & World Report, which helped garner Hocking College some national attention.
If you would like to learn more about working with wild animals or the Hocking College Nature Center, contact Dave Sagan by email at sagand@hocking.edu or by phone at (740) 753-6326.