A degree in laboratory sciences can assist students in obtaining employment at hospital labs, clinics, forensic labs, veterinary clinics, industrial research labs, and molecular biotechnology labs as medical laboratory technicians (MLT).
Professionals in this field analyze blood, urine, and body specimens. The results of these tests they analyze play an important part in the detection, diagnosis, and treatment of major diseases.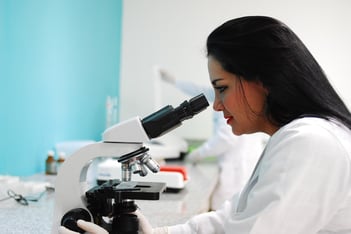 Why Should I Become a Medical Lab Technician?
The Bureau of Labor Statistics projects that the employment of MLTs and scientists will increase by 16% through the year 2024. According to Jobs Rated Almanac, medical laboratory science has 25% job growth and good job security. Among health-related professions, it's currently ranked third.
In 2015, the median salary (which is based on geographic location) for MLTs was about $41,420 and about $60,520 annually for medical laboratory scientists.
According to the American Society for Clinical Pathology (ASCP), clinical scientists accounted for 335,700 jobs in 2016. About half of these jobs were in hospitals; the remainder were in clinics, doctor's offices, blood banks, independent clinical, forensic and research laboratories, and the government such as the public health service.

While the need for laboratory professionals is expected to grow by 13% between 2016 and 2026, which is much faster than the average employment, there's currently a documented shortage of working laboratory professionals in the U.S. According to the latest bi-annual survey performed by the ASCP, laboratory professions are seeing a range of vacancy rates, from about 5% for anatomic pathology departments to roughly 9% for chemistry departments.
Is a Career in Laboratory Science Right For Me?
A career in laboratory science may be perfect for you if you have the following interests:
Science
Desire to help people
Like challenges
Sense of responsibility
Problem solver
Multi-tasker
Team player
Works well under pressure
Self-motivated
Enjoys working with computers and technology
Detail-oriented
What Sort of Educational Background Do I Need?
If you're looking to get into laboratory science, you should have an educational background in biology, chemistry, and/or mathematics.
Where Can I Pursue a Degree in Laboratory Science?
Hocking College in Nelsonville, OH offers a Laboratory Science program. In two years, you could graduate with an Associate of Applied Science in Laboratory Sciences.
For more information about this program, contact Medical Laboratory Technology Program Manager, Kimberly Ephlin, by email at ephlink@hocking.edu or by phone at 740-380-9315 ext. 6602.