Did you know that every student at Hocking College has an academic advisor? Or that your academic advisor will be one of the greatest resources you'll find on campus? For this reason, it's important for you to get to know your advisor and the many advantages that they can offer you throughout your academic career.
What is an Academic Advisor?
Technically, an academic advisor is a type of counselor who works with students, usually at the college level. Their job is to assist students in choosing a major and a minor and ensuring that they meet all the requirements to graduate with a major in their field of choice.
They also specialize in an area of study and are often times paired with students who are pursuing careers in that same field. For example, a professor who teaches in the School of Nursing will also act as an advisor for nursing students.
What Does My Academic Advisor Do?
Some of the other essential duties academic advisors perform are as follows:
Help students choose a major
Monitor students' progress.
Make students aware of scholarship opportunities
Assist students in establishing a connection between them and their college's faculty and administrators.
Help make students are aware of the policies and procedures that are upheld by the college
Guide students through the process of changing, adding, or canceling classes.
Keep students' graduations on track
Help students make post-graduation plans
Why Should I Get To Know My Academic Advisor?
One of the most important aspects of getting to know your advisor is understanding their role at the college and in your academic career. Most advisors serve as professors at the college or university. They specialize in an area of study and are often times paired with students who are pursuing careers in that same field. For example, a professor who teaches in the School of Nursing will also act as an advisor for nursing students.
Additionally, advisors are here to help students make the right academic decisions. When it comes to scheduling classes, academic resources, scholarship opportunities, extra-curricular activities, internships and job opportunities, talking to your advisor is the best place to start. They will most likely have the information you are looking for or should be able to connect you with another office on campus who is able to answer your questions.
When Should I Meet With My Advisor?
At Hocking College, students are required to meet with their advisors at least once every semester. However, advisors are available all throughout the year and can meet with students whenever it's necessary. You should plan on meeting with your advisor if you're considering the following:
Selecting courses
Dropping or adding a course
Declaring a major
Changing your major
Transferring to another college
Looking for internships or job opportunities
Have questions about class requirements
Struggling in your classes
Looking for extra-curricular opportunities
While there are other times that you can meet with your advisor, those reasons listed above are some of the critical times throughout your college career when you should have professional advising.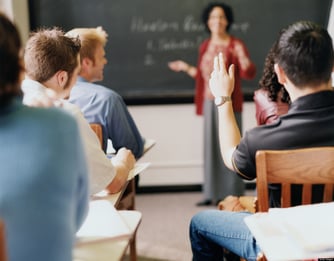 What Questions Should I Ask My Advisor?
When meeting with your advisor, it is important to ask questions that will be constructive to your academic advancement. Some questions you may want to ask your advisor include:
What job opportunities can I pursue with this major?
What scholarships are available?
What requirements must I meet to in order to graduate?
What skills will this major help me develop?
Can I change my major and, if so, how?
Will my class credits transfer to another college or university?
Who do I contact to transfer my class credits?
How many classes should I take each semester?
Should I take summer classes?
What campus resources would be beneficial to me?
What academic goals should I set for myself?
Do you have any advice or tips for me?
Your advisor should be able to give you thorough answers to all these questions and, if they cannot, they should be able to point you in the right direction to someone who can.
How Do I Get Ahold Of Your Advisor at Hocking College?
To reach your advisor, log into your Self-Service account and navigate to Academics and then Student Planning. Under Plan & Schedule, you can toggle to the Advising tab and see the name of your advisor. By clicking on their name, it will begin to email them using your default email browser, but you can also find their email, telephone number, and office location on the Hocking College staff directory.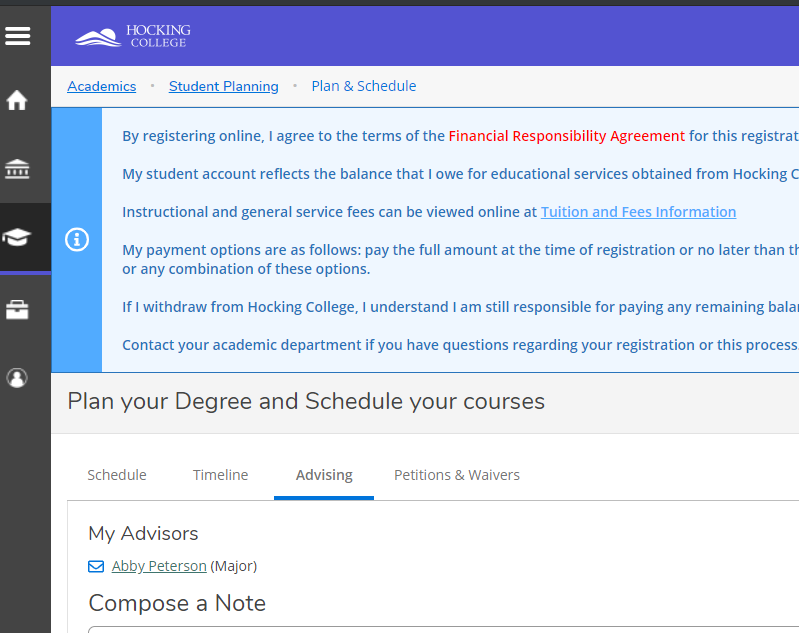 Although advisors are supposed to help students whenever possible, it is ultimately the student's responsibility to keep track of their academic standings and resources. It is a student's responsibility to make the final decisions, schedule meetings, prepare for meetings, being aware of deadlines, keeping track and completing degree requirements, being honest, and taking into careful consideration their advisor's suggestions.
The most important piece of advice to remember is that your advisor is here to help YOU and wants YOU to succeed in the classroom and beyond! If you spend your time wisely and allow your advisor to get to know you, they will help you in unbelievable ways. You are sure to have a successful college career and bright future with the help of your advisor.
*Originally posted in August 2018.