Each year, between 140 to 160 officers are killed in the line of duty. Today, which is National Law Enforcement Appreciation Day, is a day in which citizens across the United States can show their appreciation to those men and women who put their lives at risk in order for us to have a safer & better community.
Whether you are a police officer, have a family member who's a police officer, or don't even know any police officers, this day is all about bringing light into a dark perspective of the police force.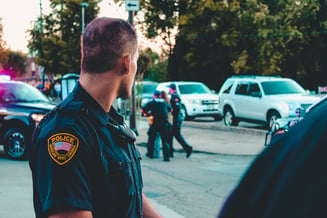 How Was National Law Enforcement Appreciation Day Created?
This day was founded in 2015 by multiple organizations, including the Concerns of Police Survivors (C.O.P.S), the FBI National Academy Associates, the Fraternal Order of Police, the International Association of Chief of Police, the Officer Down Memorial Page, Law Enforcement United, and the National Troopers Coalition to name a few.
According to C.O.P.S, they believe that there's a need to show law enforcement officers that people recognize the difficult careers they've chosen in public service in order to protect lives and uphold the law. Today is a day for the public to spread encouragement and show respect to these brave men and women.
How Can I Observe National Law Enforcement Day?
There are several ways to show your support for law enforcement, including:
Sending a note of thanks to your local, county, or state police agency
Wearing blue
Replacing your porch light bulb with a blue one
Sharing a story about a positive law enforcement experience on social media using #NationalLawEnforcementAppreciationDay
What Does it Take to Become a Law Enforcement Officer?
The minimum requirement to enter the law enforcement field is typically a high school diploma; however, an increasing number of police departments now require applicants to have at least an associates degree. A bachelor's degree is the minimum requirement for federal police jobs.
Where Can I Get the Training to Become a Law Enforcement Official?
Hocking College offers an associates degree in Criminal Justice: Law Enforcement. Students in law enforcement will have the option of taking the Ohio Peace Officer Basic Academy during their last semester at Hocking College, which will allow them to graduate with both an associates degree in criminal justice and their Ohio Peace Officer Training Academy (OPOTA) certification*. (*Dependent on passing state test)
In addition, Hocking College has a new partnership with the University of Cincinnati's (UC) Criminal Justice program, which is not only nationally ranked, but also ranked number one in the state of Ohio. This partnership allows students in the Criminal Justice: Law Enforcement program to complete their associates degree at Hocking College the first two years, then continue on to UC to earn their Bachelor's degree within another two years. Another benefit of this partnership is that UC offers an online Bachelor's degree program in criminal justice, which means students can earn their degree remotely. This offers more flexibility for those students who wish to enter the workforce upon graduation from Hocking College, all while continuing to earn a Bachelor's degree. In the end, students who choose this route will be able to save both time and money.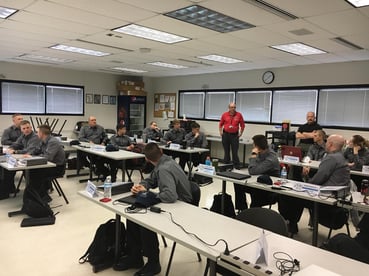 What Will I Learn in the Law Enforcement Program at Hocking College?
Students who enroll in Hocking College's Criminal Justice: Law Enforcement program will learn the following:
How to describe the responsibilities and administrative competencies of each component of the criminal justice system

The U.S. constitutional rights of all citizens as they apply to the criminal justice system

Be able to identify the three main approaches used to explain criminal behavior

Demonstrate the ability to use the Ohio Revised Code as a professional resource

Write complete, factual, accurate, and concise reports

Demonstrate proficiency in crime scene investigations

Characterize the importance of public relations as it relates to law enforcement

Recognize the importance of physical fitness and wellness in law enforcement
---
For more information on Hocking College's Criminal Justice program, contact Ashlynn Lucas by email at lucasa35804@hocking.edu or by phone at (740) 753-6472.