Hocking College welcomes Travis Fullerton as the new Program Manager of the Fitness Management program. Fullerton grew up in Kingston, Ohio, and was involved in football, wrestling, strength, conditioning, and biology while attending Logan Elm High School in Circleville, Ohio.
After high school, Fullerton attended Ohio University (OU) to become a high school science teacher and football coach. He earned his Bachelor's in Exercise Physiology and Masters in Clinical Exercise Physiology. While working towards his degrees, he coached the varsity football team at Logan Elm High School and also coached for strength and conditioning.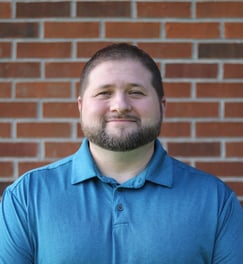 Fullerton has worked in a variety of positions in the exercise physiology field. He worked as a personal trainer and risk reduction trainer, an Adjunct Instructor in Exercise Physiology, Cardiac Assessments, and Exercise Testing and Prescription at Ohio University. He also worked at O'Bleness Hospital/Ohio University as an Exercise Physiologist in the Cardiac and Pulmonary Rehabilitation Department.
Excited about his new position at Hocking College, Fullerton said, "My drive to instruct on principles of exercise physiology, health and wellness along with my passion to create effective programs that promote health and fitness as a necessary part of the healthcare continuum are my primary motivators. I enjoy preparing the next generation of fitness professionals because I know how their lives will be enriched working in this field."
Fullerton believes fitness professionals are essential because of the life-changing benefits they bring to their clients. They create customized exercise programs that are safe, effective and greatly impact their lives. People who exercise have a more positive outlook on life, decreased stress, improved relationships and they feel stronger and happier.
The Fitness Management Program was developed with science in mind, then strengthened by hands-on experience, focusing on students learning ways to market themselves and entrepreneurship. Fullerton believes, "A program that contains scientific understanding, practical application, and promotes business models that allow fitness professionals to succeed is at the core of my goals for this program." He feels that helping individuals increase their physical fitness abilities and decrease their risk of diseases is very rewarding.
Students can work in a wide variety of careers based on their education and certificates, such as Health Specialists and Wellness Coordinators, Personal Trainers, Group Fitness Instructors, Risk Reduction Specialists, and Strength and Conditioning. These positions can be in corporate settings, fitness centers, senior centers, assisted living facilities, youth sports, athletics, etc., allowing fitness professionals to work with a diverse group of people.