Originally called, "Armistice Day," Veterans Day was first celebrated on November 11, 1919, to commemorate the first anniversary of the end of World War I, and to honor the U.S. soldiers who served their country. In 1954, the name was officially changed to "Veterans Day" and the annual holiday officially became a day to honor American veterans of all wars.
At Hocking College, our Veterans & Service Members Resource Center is committed to providing high-quality academic and student support services to Veterans, Active-Duty Servicemembers, Reservists, National Guard members and Military Families.
For Veterans Day this year, Hocking College is pleased to celebrate our newest additions to the Hocking College Veteran & Military team, Irina Waltz and Jason Sturgill. Waltz and Sturgill are both veterans of the United States military with a combined 15 years of service.
Meet the Team - Irina Waltz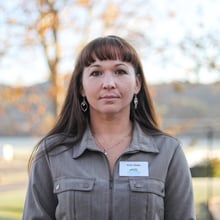 Irina Waltz came to the United States to earn her Associate Degree at Pikes Peak Community College where she studied Military and Leadership Sciences. Originally from Ust-Labinsk, Russia, Waltz has traveled the United States extensively through her educational and military career. After completing her Associate Degree in Colorado, Waltz went on to earn her Bachelor's Degree in Criminal Justice from Eastern Kentucky University, where she also was involved in ROTC for the first time.
Waltz holds a Master's Degree in Justice, Policy & Leadership from Eastern Kentucky University, and has served seven years in Active Duty service with the United States Army. She has held roles in electrical work, human resources, and recruitment with the Army, and spent three years as an officer.
Irina Waltz is currently employed as a Veterans & Military Services Enrollment Manager at Hocking College. Waltz says that for the first time in several years, she had the opportunity to choose where she would like to live; along with her family, she decided to move to southeastern Ohio. In regards to her role at Hocking College, she says: "I saw an opportunity to make a difference by navigating, directing, and offering multiple educational options to all our Military personnel, Veterans, and their families who seek to continue their education and grow in their professional and personal lives".
In her vision for the future of Hocking College, Waltz hopes to develop an ROTC program that provides prospective Hocking College students with the opportunity to attend college and train to become an army officer at the same time, in exchange for paid tuition. She considers her experience as an ROTC student a fundamental experience in her career path, and she hopes to provide students with even greater opportunities and options here at Hocking College.
Meet the Team - Jason Sturgill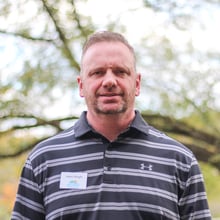 Jason Sturgill, originally from Louisa, Kentucky, has lived in Central Ohio for the past 22 years and served in the United States Military for eight years. Sturgill has been deployed to Afghanistan and Guantanamo Bay, and was also stationed in Fort Riley, Kansas with the US Army Reserves.
Sturgill holds a Bachelor of Arts in Exercise Science, a Master of Education in Education & Athletic Coaching and a Master of Science in Sports Management/Sports Administration. Throughout his professional career, Sturgill has held a variety of roles in education, coaching, sales, and recruitment at universities such as Capital University and The Ohio State University, as well as the United States Army. Sturgill has also been working with veterans for 10 years through public speaking and mental health programs.
In addition to his current role as a Veterans & Military Services Enrollment Manager at Hocking College, Sturgill will also be the Assistant Baseball Coach for the Hocking College Men's Baseball team. Sturgill was drawn to Hocking College because of its smaller campus size and its student-first approach to education. Having been raised on a farm in eastern Kentucky, Sturgill is pleased to return to a more rural setting after spending several years in the Columbus area.
According to Sturgill, he is most excited about "helping military and veteran students and their dependents with earning a great education". He hopes to provide guidance, support and resources to current and prospective students to help them achieve their academic and career goals.
---
As veterans themselves, Hocking College's Veterans & Military Services team members understand the unique challenges that face veterans, service members and their families. To learn more about the services that Hocking College provides to current or veteran military service members and their families, visit www.hocking.edu/veteran-and-military-resource-center or get in touch with an Enrollment Manager today by contacting Irina Waltz at waltzi@hocking.edu (740-753-7055) or Jason Sturgill at sturgillj40892@hocking.edu (740-753-7100).