If you're interested in getting into the nursing industry, you may see that you're required to pass a criminal background check. Why is that? The following blog series will explain why criminal background checks are necessary, how the Ohio Board of Nursing handles them, and how having a criminal record can effect your career. This first blog will discuss why criminal background checks are necessary in the nursing industry.
---
Click here to learn more about Hocking College's Nursing program.
---
Why Are Criminal Background Checks Necessary in the Nursing Industry?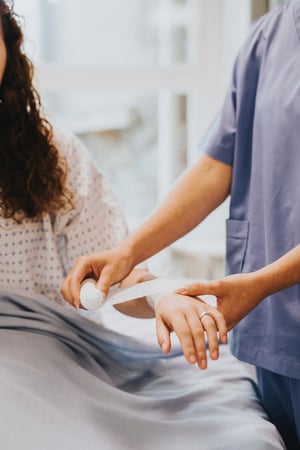 Under the Patient Protection and Affordable Care Act (PPACA), criminal background checks are required to be conducted on prospective applicants who intend to pursue employment in health care facilities or settings that receive federal funding.
According to the PPACA, the Secretary of Health and Human Services is responsible for carrying out a national program for states to conduct both national and statewide criminal background checks on any employee whose work responsibilities involve direct patient/resident access at nursing facilities, as well as other providers. Health care facilities, which receive federal funding in the form of Medicare and/or Medicaid reimbursement for services performed, include hospitals, long-term care facilities, skilled nursing facilities, and home health agencies.
What Felonies Could Prevent Me From Getting My Nursing License?
In the state of Ohio, there are 11 felonies that will prohibit you from obtaining a nursing license. The Ohio Board of Nursing cannot issue a license to a person who has pled guilty to, been convicted of, or has a judicial finding of guilt for any of the following offenses:
Murder
Voluntary manslaughter
Felonious assault
Kidnapping
Rape
Sexual battery
Gross sexual imposition
Aggravated murder
Aggravated robbery
Aggravated burglary
Aggravated arson
The Board also is prohibited from issuing a license to anyone who is required to register as a sex offender.
What Happens If Someone Who's a Licensed Nurse Is Convicted of One of the Above Felonies?
If someone has been issued a nursing license by the Board and is later convicted of one of the felonies listed above, the Board is mandated to automatically suspend the nursing license, effective as of the date of his/her conviction, guilty plea, or finding of guilt.
In addition, the Board may refuse to issue or revoke a license for any felony, drug-related misdemeanor, or any misdemeanors occurring during the course of nursing practice. No matter what the charge is, the Board examines each individual's case and gives consideration to the underlying acts and circumstances of what's all involved before making a final decision.