Are you interested in becoming a Physical Therapist Assistant (PTA), but not sure what type of employment setting is best for you? If so, this blog dives into the three common employment settings PTAs can choose from when working in the field.
What is a Physical Therapist Assistant?
According to the American Physical Therapy Association (APTA), a physical therapist assistant is a licensed medical professional who "help(s) people of all ages who have medical problems, or other health-related conditions that limit their ability to move and perform functional activities in their daily lives."
What Kind of Job Settings Do PTAs Work In?
As a licensed physical therapist assistant, you can use your education and skills to work in a wide variety of work settings. The following are three common job settings in which a licensed PTA could work:
Acute Care
Skilled Nursing Facility
Outpatient
Regardless of which work setting you choose, you will always work under the supervision of a licensed physical therapist. The physical therapist is required by law to see the patient and provide them with a treatment plan. Included in this plan are some therapy goals and interventions that the PTA will complete with the patient.
ACUTE CARE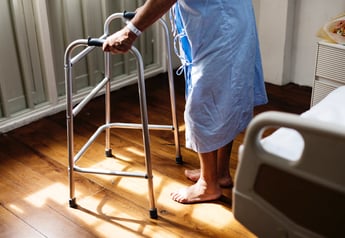 Depending on the acute care setting, PTAs may be able to work in different units of a hospital. Some of these units would include:
Orthopedics
Neurology
Medical surgical units
Intensive care
What Kind of Patients Need Acute Care?
Typically patients in acute care are recovering from, but are not limited to the following procedures or illnesses:
Hip or knee replacement surgeries
Surgical procedures involving the spine, heart, lung, or brain
Cancer
Pneumonia
Stroke
What's the Goal of Acute Care?
In this particular setting, PTAs focus on getting the patient stronger so that they can get in and out of bed, get to a wheelchair or chair, stand and progress them to walking and other strengthening and endurance-oriented activities. Many patients are able to go home following some acute care-based therapy, or they may continue their therapy at a rehabilitation or skilled nursing facility, at home with home health care, or even outpatient therapy.
---
SKILLED NURSING FACILITY
Often following a stay in an acute hospital, a patient is transferred to a skilled nursing facility for continued therapy.
What Kind of Patients Need to be in a Skilled Nursing Facility?
In a skilled nursing facility, PTAs will work as part of a team to ensure that each patient reaches their maximum potential using the following types of therapies:
Occupational therapy
Nursing care
Speech therapy
What's the Goal of a Skilled Nursing Facility?
In this work setting, PTAs works hard to help the patient gain sufficient strength, balance, endurance, and ability to transfer to their car and walk. The focus of the patient's therapy would be to help them improve during a stay that on average could take two to three weeks.
What Other Duties Would a PTA in a Skilled Nursing Facility Perform?
Other duties in a skilled nursing facility would include:
Meeting with family and other team members, including social services to discuss the patient's needs and progress.
Completing home visits to make recommendations about safety and identify additional areas that need to be addressed prior to the patient's discharge.
Providing ongoing education to caregivers whether they're family members or facility staff to help the patient.
Working with

patients who return for therapy after they've been discharged.
---
OUTPATIENT
If you are working in an outpatient facility, your patients can usually get around fairly well and are staying at home.
What Kind of Patients Need Outpatient Therapy?
Young athletes recovering from a sports-related injury
"Weekend Warriors" with joint, muscle, tendons, or bones issues
Individuals recovering from total joint replacements or orthopedic surgeries
Accident victims
Patients recovering from neurological conditions like strokes or brain injuries
What Other Outpatient Duties Might a PTA Perform?
When working in an outpatient setting, PTAs focus on helping their patient regain their strength and mobility by using the following techniques:
Electrical stimulation
Ultrasound
Different types of exercises to increase a patient's range of motion, strength, endurance, or balance
Potentially progressing their patient to weight machines, treadmills, or even a pool
Where Can I Get the Experience & Training I Need to Become a PTA?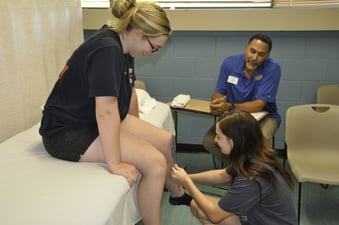 Hocking College in Nelsonville, Ohio has a physical therapy assistant program. In only two years students can graduate with an Associate of Applied Science in Physical Therapy Assistant degree.
For more information on this program, please contact PTA Program Manager, Mary Ann Simon, by email at simonm@hocking.edu or by phone at (740) 753-6404 or (740) 753-6424.
The Physical Therapy Assistant program at Hocking College is accredited by the Commission on Accreditation in Physical Therapy Education (CAPTE), which is located at 1111 North Fairfax Street in Alexandria, Virginia.