Currently, the only thing an Emergency Medical Services (EMS) employee needs in order to secure employment is a National EMS Certification. However, a recent joint statement from the National Association of EMS Educators, the National EMS Management Association, and the International Association of Flight and Critical Care Paramedics indicated that this situation could be changing.
According to this statement, all EMS employees may be required to have an associate degree in the near future.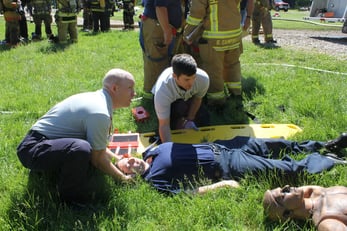 What's the Difference Between a Certification and an Associate Degree?
A certification program only provides students with the training they need to enter a vocation. In addition, certificates can be earned in a year or less. An associate degree provides students with skills and knowledge, as well as requiring them to take specific general education courses before entering the workforce. An associate degree normally takes two years to obtain.
How Will This Potential Change Benefit EMS Employees?
This change will benefit EMS employees in the following ways:
The EMS industry will be seen as less of a vocational trade and more of a medical profession.
EMS employees will have more of a voice and chance to advocate for changes in their industry.
EMS providers will be able to provide the community with research material from a first-hand perspective.
Degree holders can earn more respect from their health care peers.
Having a degree will give EMS employees a competitive edge in the job market.
They'll have more opportunities to move into management positions.
Degree holders will be more qualified to travel and seek employment outside the United States.
What Aspects of the EMS Profession Will Stay the Same After This Change?
Even if this change were to happen, there would be no change in pay, job duties, or scope of practice.
Are There Any Other Countries That Require Their EMS Workers to Have a Degree?
Yes, there are several countries that require EMS employees to have an associate degree, including:
Australia
Canada
New Zealand
South Africa
United Kingdom
How Can I Stay Ahead of This Trend?
You can enroll in Hocking College's Fire & Emergency Medical Services program. In two years, you could graduate with an Associate of Technical Study in Fire & Emergency Medical Services and begin working in this exciting and rewarding field.
For more information about this program, contact EMS Program Manager, Robert Cornwell, by email at cornwellr@hocking.edu or by phone at (740) 753-6476.