Hocking College currently has a professional partnership with Cisco Networking Academy. For over 20 years, this academy has been providing programs that promote both IT and career-building skills to over 7.8 million students in 180 countries.
What is Cisco Networking Academy?
Also known as "the world's largest classroom," Cisco Networking Academy began in 1997. Since then, their single
goal has been helping students obtain the technical and entrepreneurial skills they'll need to meet the challenges of tomorrow's job market.
What Kind of Training Do Cisco Partners Get?
Partners of Cisco Networking Academy will learn how to plan, design and prepare a network; implement a network; offer operations support; and how to optimize a network.
What Are Some of the Benefits of a Cisco Partnership?
There are many benefits of Cisco Networking Academy, including that graduates have a high success rate. Through Hocking College's partnership with Cisco, students will be able to take the academy at a discounted rate. The specialized knowledge students will obtain courtesy of obtaining these Cisco certifications will make them more marketable since the curriculum is geared towards keeping students up-to-date on all the latest trends, tools and techniques every IT specialist needs to be aware of.
Cisco's programs are designed to teach students how to develop the following skills:
Cryptography
Firewalls
Intrusion detection
Network analysis
Wireless networking and security
Is Computer Science a Good Field to Get Into?
According to the Bureau of Labor Statistics, the median pay for web developers is $67,990 and is $95,510 for information security analysts. With this field in high demand, it's estimated that there will be 28,500 new information security analyst positions and 24,400 new web developer positions waiting to be filled by 2026.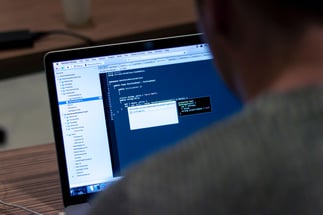 What Computer Science Degrees Does Hocking College offer?
Hocking College offers both a Cybersecurity & Network Systems and a Website & Applications Development Program where students can earn their Associate of Applied Science in Cybersecurity & Network Systems Technology, or their Associate of Applied Science in Website & Applications Development degrees in only two years.
For more information on Hocking College's Website and Application Development, contact Website and Applications Development Program Manager, Tasha Penwell, at penwellt31810@hocking.edu or by phone at (740) 753-7181.
For more information on Hocking College's Cybersecurity & Network Systems Program, contact Cybersecurity and Network Systems Program Manager, Mark Riley at rileym24177@hocking.edu or by phone at (740)753-7209.