Have you ever wanted to learn how to make your own beer, wine and spirits? Does the thought of turning what might start out as a fun hobby into your very own lucrative small business interest you? If this sounds like you then perhaps you should consider enrolling in Hocking College's upcoming Fermentation Science program!
What is Fermentation Science?
Fermentation science is based on the natural chemical process by which sugar is broken down into carbon dioxide and alcohol utilizing a single cell microorganism called yeast. However, most people would probably be more familiar with this term as it relates to the creation of beverages such as beer, wine and spirits.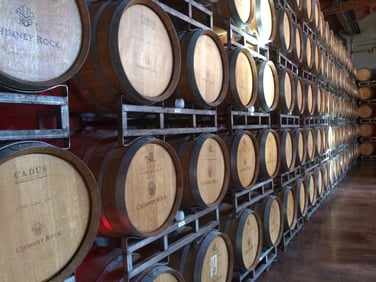 Also famous for being one of the oldest forms of food processing known to man, the historical roots of fermentation science can be traced back to 1000 B.C. when the Chinese used fermented soybean curd to treat skin infections. However, fermentation science has been primarily used throughout history to produce beer and wine. In fact, according to most historians, the production of mead and honey wine during the Vedic Period (1700-1100 B. C.) predates the creation of bread.
In conjunction, during Hocking College's autumn 2018-2019 term prospective craft brewers who enroll in their Fermentation Science program can choose to pursue either an associate's degree or certificate in fermentation science. Afterwards, graduates from this program will be able to tap into this thriving industry!
What Skills Will I Learn?
Students who enroll in Hocking College's Fermentation Science program will get the chance to experience what its like to work in a nano brewery operation. There they will receive instruction in how to excel in the following skills:
Brewery Operation Procedures
Craft brewing
Culinary Fermentation Techniques
Fermentation Equipment Engineering
Fermentation Lab Techniques
Finishing and Packaging Techniques
Introductory and Advanced Production Processes
Product Analysis
Quality Control Techniques
Standard Sanitary Procedures
Winemaking
Are There Any Prerequisites?
Currently the only prerequisite students need to enroll in Hocking College's fermentation science program is a pair of steel toe work boots. However, students who possess the following academic skills and specific qualities will have a definite advantage over their potential classmates:
Academic Skills:
Basic Computer Experience
Basic Math Skills
Basic Chemistry Skills
Familiarity with Lab Equipment
Specific Qualities:
Ability to Thrive in a Hands-On Environment
Attention to Detail
Creativity
Consistency
Problem Solving Skills
Resiliency
Stamina
What Kind of Job Opportunities Will I Have?
Students who graduate with either an associate degree or certificate in fermentation science from Hocking College will be capable of filling the following positions in the craft beverage industry:
Beverage Sales and Management Employee
Brewer Assistant
Brewer
Brewery Manager
Cellarman
Distiller
Start-Up Entrepreneur
Warehouse and Packing Manager
Vineyard Employee
Winemaker
More Reasons to Consider Hocking College
Students who enroll in Hocking College's Fermentation Science program will be able to enjoy the following benefits:
Hocking College's Fermentation Science program is currently the first of its kind in Southeast Ohio.
This program will be the first in the nation to offer students the opportunity to learn how to make beer, wine and spirits
Hocking College's program will encourage students to think entrepreneurially and consider the prospect of one day going into business for themselves
People in the craft beverage industry have the opportunity to be innovative and create their own custom brands of craft beer, wine and spirits
Independent brewers/winemakers have the chance to establish personal relationships with their customers
Graduates will leave Hocking College with the knowledge and skills they need to make themselves highly marketable in the craft beverage industry
Graduates will leave Hocking College fully prepared to work in the craft beverage industry in a variety of different capacities.
Hocking College is located near historic Wayne Nation Forest.
Hocking College is the only two-year school in Ohio that offers residence halls