A recent post on EMS World addressed the following question — do EMS workers necessarily need to pursue getting a college degree?
Michael W. Schmitz wrote an article titled Professional and the Paper which presented his argument as to why the answer to this particular question should be an emphatic yes.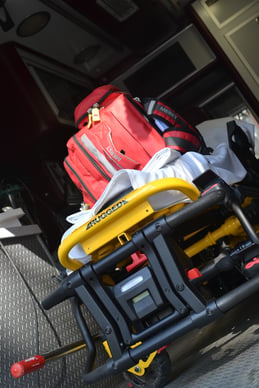 What is an EMS Worker?
Officially, Emergency Medical Service (EMS) workers are certified as first responders, basic or intermediate emergency medical technicians (EMTs), or paramedics.
In addition, some EMS workers go on to serve as educators and administrative personnel who coordinate emergency responses.
What Are the Duties of EMS Workers?
Depending on the holder's certification, the duties of an EMS worker can include some of the following tasks:
Performing basic physical exams
Assessing patients' trauma levels
Administering oxygen
Inserting IVs
Intubating victims
Using cardiac monitors and manual defibrillators
Assisting with disaster preparedness plans
What Are the Educational Requirements For Becoming an EMS Worker?
The majority of training programs geared towards EMS workers can range from six months to two years. Once they graduate, they are awarded a certificate upon their completion of the program.
However, some EMS workers decide to pursue an associates, bachelor's, or master's degree in EMS management.
Why Should EMS Workers Consider Getting a Degree?
Schmitz supports EMS workers pursuing a degree because it helps them not only obtain essential job skills, but allows them to stay up-to-speed with the changes in the healthcare system. Those EMS workers who have a degree are able to move into management positions, as well as have a clearer path towards potentially an alternate career in nursing or firefighting.
Where Can I Get the Training I Need to Become an EMS Worker?
Hocking College in Nelsonville, OH offers a Fire & Emergency Medical Services Program. In five semesters, students can graduate with an Associate of Technical Study in Fire & Emergency Medical Services and begin working in this exciting and rewarding field.
The program offers Firefighter I and II, EMT, and Paramedic certification courses. The fire courses follow standards established by National Fire Protection Association 1001 and the Ohio Department of Public Safety.
For more information about this program, contact EMS Program Manager, Robert Cornwell, by email at cornwellr@hocking.edu or by phone at (740) 753-6476.