On Tuesday, April 9 students from Hocking College's Addiction Counseling, Criminal Justice and Animal Assisted Therapy Programs were invited to attend a K-9 unit demonstration courtesy of the Fairfield County Sheriff's Office.
Held at the fire tower on campus, the demonstration featured Kahr, a seven-year old police service dog. Kahr was accompanied by his handler, Deputy Shaun Meloy and Deputy Brandin Peters. Meloy has been a K-9 handler with the sheriff's office since 2014.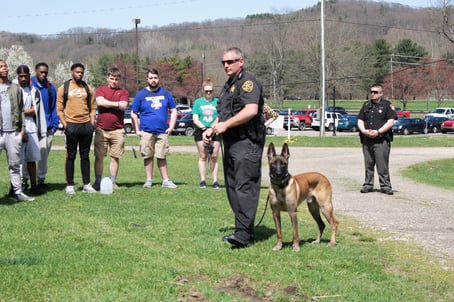 Who Organized
This Event?
This first-ever K-9 unit demonstration at Hocking College was organized by Police Science Faculty Member, Richard Harp.
What Was the Goal of This Presentation?
According to Harp, some of the main objectives of this event were, "to teach students new ways to identify drugs" and how K-9 units can be used as a tool to combat the nation's current war on drugs.
What Were the Topics Covered?
During the K-9 unit demo, Deputy Meloy discussed the following topics:
How K-9 unit SUVs are different from traditional police cruisers
The ongoing training requirements both the service dog and their handler are required to fulfill
The care and feeding habits of K-9 unit dogs
What Did the Students & Staff Think?
According to Criminal Justice major Brittni Joy, this demonstration was a learning experience that enlightened her to "how much work and responsibility it really takes to train and take care of this kind of a dog."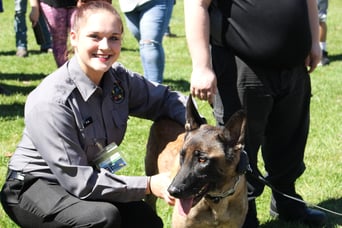 Addiction Counseling Program Manager, Lori Baker, observed that "the fact that there is only one dog (of this type) in this whole area shows how valuable their work really is and how well they work with us
as humans."
Lea Wandling, the Department Chair for Public Safety Services, recalled that she "learned that not all dogs alert in the same manner. For the Fairfield County K-9, when he alerts on a car/suspect, it is a passive alert, meaning the dog will just sit, lay down, or give some other non-active signal to his handler."
In conjunction, many students were surprised to learn that being a K-9 handler is literally a 24/7 job. This means that when Kahr isn't doing police work, he resides in the Meloy home where he is regarded as a beloved member of their family.
Though despite his years of specialized training, Kahr has no problem transitioning from service dog to beloved family pet. Meloy noted that when his canine partner isn't working he enjoys doing things most normal pets do like begging for scraps from the table, playing with his handler's children, and getting groomed and bathed.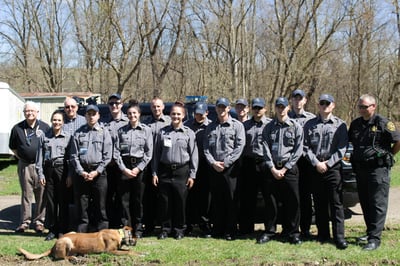 Meloy's relationship with Kahr when off the clock is "like having another kid."
What's Kahr's Backstory?
Originally from Germany, Kahr is a Belgian Malinois certified in both patrol and narcotics tasks, and has accumulated over 600 hours of training. He was purchased from Storm Dog Tactical located in Sunbury, OH and became an official member of the Fairfield County Sheriff's Office in September 2014.
What is a K-9 Unit?
A K-9 unit is a specialized group of law enforcement officers who use service dogs to perform tasks a general police officer wouldn't be capable of performing. In addition,
K-9 officers also function as dog handlers who are charged with the care and training of their canine partner. The objective of K-9 units is to encourage both the officer and their service dog to establish a relationship that's based on mutual trust.
What Are the Responsibilities of a K-9 Unit?
The duties that a K-9 officer and their service dog perform typically fall into two categories: General Police Officer Duties and Specialized Tasks. Some of the general police officer duties include:
Both the officer and their dog accompany one another on traffic stops
They respond as a team to calls and emergencies
The dog assists the officer in apprehending suspects
Some of the specialized tasks K-9 units perform include:
Detecting illegal substances, chemicals, or explosives
Identifying individuals who were in contact with illegal substances
Tracking and rescuing kidnapped or missing persons
Locating buried or submerged bodies or human body parts
---
For more information on Hocking College's Criminal Justice program, contact Ashlynn Lucas by email at lucasa35804@hocking.edu or by phone at (740) 753-6472.