On May 18, Franklin University announced it would not raise undergraduate or graduate tuition this year. Students registering for the 2020-21 academic year will receive a tuition guarantee of $398 per undergraduate semester hour and $670 per graduate semester hour until graduation.
Tell me more about Franklin University
Founded in 1902 in Columbus, Ohio, Franklin University is a non-profit private school that specializes in helping non-traditional adult students realize their academic dreams and enable the broadest community of learners to achieve their goals. Franklin University earned the #1 Online College in Ohio award and ranks as a top Military Friendly® School by G.I. Jobs®.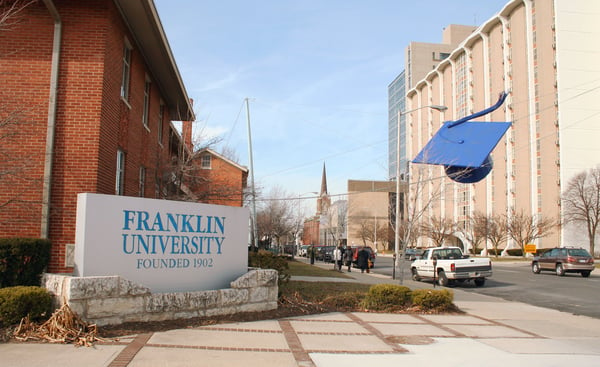 Is Franklin University accredited?
Yes! The Higher Learning Commission accredits Franklin University. It also holds specialized accreditations for specific academic programs through the International Accreditation Council for Business Education and the Commission on Collegiate Nursing Education.
What programs does Franklin offer?
Franklin University offers 36 different bachelor's degree programs. Including degrees in:
Accounting

Healthcare Management

Business Administration

Computer Science

Web Development

Criminal Justice Administration

Cybersecurity

Health Sciences

Psychology

Marketing

Nursing

Public Relations

Public Safety Management and Leadership

Risk Management and Insurance
How can I connect with Franklin University?
Students wishing to learn more about Franklin University's programs should contact Franklin's Community College Regional Manager Greg Haskins, at either 614-849-2997 or transferinfo@franklin.edu.
Due to COVID-19 restrictions virtual office hours are only available via Zoom on Tuesday's from 1:00 pm to 4:00 pm. Click here to join!
However, students who aren't available for a virtual visitation at this specific time and day can also meet with Haskins over the phone or virtually on other dates and times by visiting his calendar link.
Can I have some details about Franklin's partnership with Hocking College?
Presently, Hocking College has several 3+1 partnerships with Franklin University that allow students to obtain their bachelor's degree. These partnerships save students money and time by allowing them to take the third year of their bachelor's degree at Hocking College – paying the community college tuition rate. Programs that have 3+1 partnerships include:
Allied Health and Nursing

Accounting and Financial Services

Business

Cyber Security

Web Development

Addiction Counseling

Criminal Justice

Public Safety
Hocking College and Franklin University also offer students two other types of bachelor's degree paths. The traditional 2+2 transfer program, and the 1+2+1 program where students start taking College and Credit Plus Classes in high school, attend Hocking College for two years and take their final year at Franklin University.