Ever since he was a child, Hocking College alumni Robert W. Everett knew exactly what he wanted to be when he grew up, a law enforcement officer.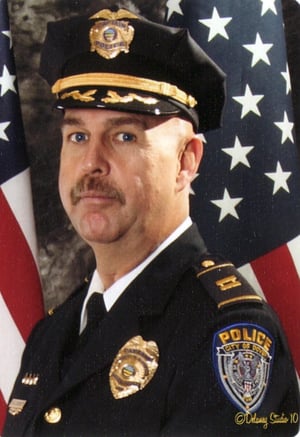 Furthermore, he credits the hands-on experience he received, and relationships he established, at his alma mater with keeping him on a career path that eventually took this Dover, OH native all the way to London, England.
After graduating from Dover High School in 1979, Everett immediately headed to Hocking College where he began working towards his Associate Degree in Police Science.
During his time at Hocking College, one of the factors that impressed him was the fact that his classes didn't just involve traditional class work.
Specifically, he recalled how, "once I met my instructors and saw that their classes weren't just about me gaining knowledge by reading a book, I realized I had made the right choice by coming to Hocking College."
In addition, Everett also credits his former law enforcement instructor, Lewis H. Brown, with nurturing his passion for learning. He recalled how Brown, "taught us some of his police career lessons while he was teaching us different topics. It seemed as though he always had a tidbit to offer about a situation he handled or was involved in while teaching the students."
Ultimately, Brown's teaching methods made Everett feel like he was, "not only being educated by a book, but also by someone who had been there, done that."
After graduating from Hocking College in 1981, Everett was hired by the Dover Police Department as a civil dispatcher and eventually got promoted to patrolman and later captain. He also organized different programs in the local grade schools.
He retired in 2006 and relocated to Mesquite, NV and joined the police department as a police officer. Then in 2011, he returned to Ohio where he was a probation officer for Tuscarawas County Community Corrections Department.
In 2012, Everett became the director of security for Mercy Medical Center and remained at that position for five and a half years.
Currently, he is a school resource officer for the Plain Local Schools.
However, even though Everett's career gave him opportunities to travel, he always managed to maintain his personal and professional connections to Hocking College.
Everett noted that he still stays in touch with some of his classmates via social media, one of whom was even the best man at his wedding in 1982.
He added that when he's been in the Nelsonville area he has occasionally dropped in on a few Police Science classes at Hocking College where he took the opportunity to address the students.
In the '90s, Everett also devoted five years to the Hocking College Police Science Advisory Committee. As a result, in 1993 he had the opportunity to spend 10 days as a guest of the New Scotland Yard Metropolitan Police Department in London, England.
Everett describes this trip as "one of the greatest experiences ever." He also specified that this opportunity was only made possible courtesy of his history and ongoing relationship with Hocking College.
What Are Some of the Greatest Lessons Everett Learned Both In & Outside of the Classroom?
As for career advice, Everett advises people entering the workforce to remember that, "you are NOT going to save the world so don't try."
Next, he shared his belief that all people should be treated equally, even when they break the law, and that especially law enforcement officers should try to "be a people person in and out of uniform."
In regard to any advice he would offer college students, Everett stressed that he would suggest that they get involved in their communities and attempt to stay clean.
To elaborate, he specified that students should avoid getting mixed up in any activities that they might regret later. He feels this sentiment should be of special significance to anyone who plans to pursue a career in law enforcement.
He also advises students to "pay close attention to those instructing us who have done the job before" and to remember to be there for people once they've graduated.
In conjunction, Everett advises students only planning to pursue an associates degree to reconsider going after their bachelor's degree.
Furthermore, he added that students should consider taking this route because "there are so many opportunities which now require at the very minimum a bachelor's degree."
On the other hand, Everett maintains that the prospect of getting an associates degree at Hocking College "should never be looked at lightly or taken for granted" for two primary reasons. First, Everett praised Hocking College's ability to provide students with the kind of hands-on education they'll need to be successful in today's competitive workforce. Secondly, he praised his alma mater for hiring instructors like Brown who possess both the knowledge and the background their students need to be fully prepared to take on the real world.