Are you a cooking or baking enthusiast? Do you have a head for business? Would you be able to work well under pressure and time restraints? Is your favorite television channel The Food Network? If this sounds like you then perhaps you should consider becoming a culinary arts professional.
A few of the advantages of pursuing a career in culinary arts are:
Experienced chefs/bakers are always in high demand.
This profession offers job seekers a variety of career opportunities to choose from.
Culinary arts is a gender neutral field that offers job opportunities for both men and women.
Experienced chefs currently make a median pay of $45,950.
Industry standards indicate that between 2016-2026 there will be a 10% increase in jobavailability in this field.
What Are the Job Duties?
The following are a few examples of the primary duties an executive chef might perform:
Develop recipes
Delegate authority
Plan and prepare meals
Supervise co-workers
Coordinate efforts with other staff members
Order food and supplies
Oversee sanitation procedures
Inspect kitchen equipment
Supervise all aspects of food preparation
Manage guest relations
Cultivate relationships with customers
Where Can I Get a Degree in Culinary Arts?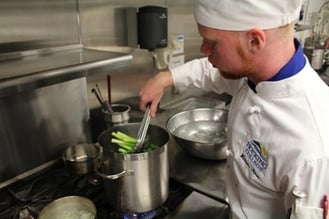 Hocking College in Nelsonville, Ohio has a program that offers students the chance to obtain an Associate of Applied Business in Culinary Arts in only 2 years.
To find out more about how Hocking College's Culinary Arts program can change your life visit the website or contact Culinary Arts Program Manager, Susanna Krutsch, directly at krutschs@hocking.edu.