What Is A D1.1 Certification?
Earning a D1.1 Certificate is a professional benchmark that anyone planning to enter the welding industry needs to meet. This tells potential employers that the certificate holder has been properly trained and has the work experience to become a qualified and capable member of their welding staff.
How Can I Get A D1.1 Certification?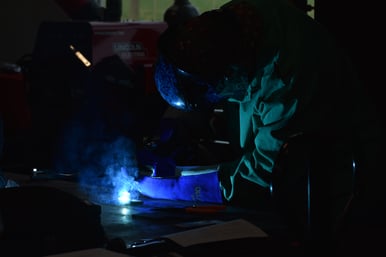 In order to obtain a D1.1 Certification, the applicant must first pass the American Welding Society's (AWS) D1.1 Code Test. Founded in 1919, the American Welding Society is a nonprofit organization that governs the welding industry on a global scale.
This certification also verifies to potential employers that the applicant is highly qualified and capable of producing what industry insiders refer to as a "sound weld."
What Does The D1.1 Test Entail?
In accordance with AWS standards, this exam is a concentrated skills test that measures the applicant's ability to weld in the following key positions:
1G Flat Position
2G Horizontal Position
3G Vertical Position
4G Overhead Position
This test will also require students to also be able to weld the following metals:
Aluminum
Stainless Steel
Molded Steel
Students who pass the D1.1 Code Test will be deemed qualified to weld (carbon steel) structural metals/shapes such as angle iron, beams, square tubing, and plates.
Where Can I Get Training For The D1.1 Code Test?
As of Fall 2018, students can get the training they need to take the D1.1 Code Test by enrolling in Hocking College's new Welding Certificate program. In just 16 weeks, this program can provide you with the knowledge and hands-on skill set needed to be qualified to take this test.
---
For more information on the Welding Program, contact Sean Terrell by email at terrells@hocking.edu or by phone at (740) 753-7149.