The healthcare industry is full of careers that does not involve direct patient care, but still has a positive impact on people's health. A Medical Lab Technician (MLT) is just one example of this.
What Does a Medical Lab Technician Do?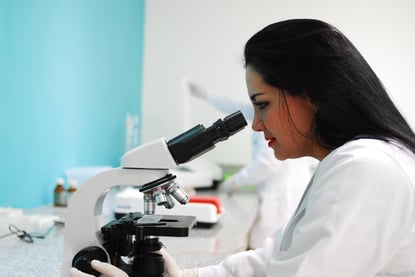 MLTs work behind-the-scenes in a laboratory setting, collecting and conducting tests on specimens. They set up microbiology cultures to look for and identify bacteria, as well as performing chemistry tests such as sodium, potassium, glucose, etc. They use a microscope to differentiate the various types of white blood cells, red blood cells, platelets, urine sediment, bacteria, and various other elements.
MLTs also perform phlebotomy, in addition to performing blood typing and determining if units of blood are suitable for transfusions. They also analyze urine for abnormalities with chemical and microscopic tests.
Lastly, MLTS also perform serological testing, quality control, calibrations, and maintenance.
However, perhaps one of the most important duties of a MLT is to keep their hands as clean and sanitary as possible. Therefore, the rest of this blog is dedicated to exploring how anyone going into this profession can be diligent of this action on a daily basis.
How Often Should MLTs Wash Their Hands?
According to the Occupational Safety & Health Administration (OSHA) standards, MLTs should wash their hands under the following conditions:
Upon completion of required tasks and before leaving the laboratory
Immediately after the removal of gloves or other personal protective equipment
Upon contact or when there's visible contamination with blood or other potentially infectious material
Before & after patient contact
Before & after eating, drinking, smoking, applying cosmetics, or handling contact lenses
Before & after using the bathroom
Before any activities in which hand contact is made with mucous membranes, the eyes, or breaks in the skin (i.e. cuts, abrasions, wounds).
What's the Standard Hand Washing Procedure for Medical Lab Technicians?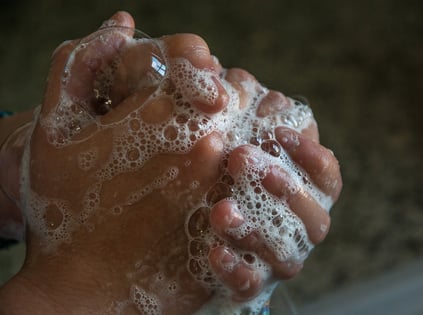 There are six (6) steps MLTs should follow when it comes to hand washing.
Remove and dispose of the gloves.
Wet hands with water.
Apply enough soap to cover all surfaces.
Thoroughly wash all parts of hands and fingers up to the wrists, rubbing hands together for at least 15 seconds.
Rinse hands with water and dry thoroughly with paper towels.
Use paper towels to turn off the faucet before discarding them into the trash.
Should MLTs Use Hand Sanitizers?
According to the Centers for Disease Control & Prevention (CDC), while washing your hands with soap and water is an effective way to reduce the number of microbes on the hands, MLTs are advised to use an alcohol-based hand sanitizer that contains at least 60% alcohol when soap and water are not available.
In accordance with their studies, the CDC found that sanitizers with an alcohol concentration between 60% to 95% were more effective at killing germs than those with a lower alcohol concentration or non-alcohol based hand sanitizers.
What Hand Lotions Should MLTs Use?
Technically, MLTs should only use hospital-grade hand creams and lotions that meet the following conditions:
Fragrant free
Compatible with latex gloves or CHG hand washes
Doesn't contain mineral oil or petrolatum
Comes in a squeeze tube or pump
Where Can I Get the Training I Need to Become a Medical Lab Technician?
Students who enroll in Hocking College's Medical Lab Technician Program can obtain their Associate of Applied Science in Laboratory Sciences in only two years. This program will provide them with the skills they need to collect samples and perform tests to analyze bodily fluids and other substances. Students will also have the opportunity to participate in practicums at local hospital laboratories.
For more information, contact the MLT Program Manager, Kimberly Ephlin, at (740) 380-9315 (ext. 6602).