The Program Manager of Hocking College's Real Estate Certificate Program recently attended the inaugural 2019 Ohio Realtors Broker Summit, which took place on Wednesday, February 20 in Columbus, OH. This all-day program brought brokers, managers, and owners from across the state to network and share strategies geared towards helping real estate professionals establish and operate successful brokerages.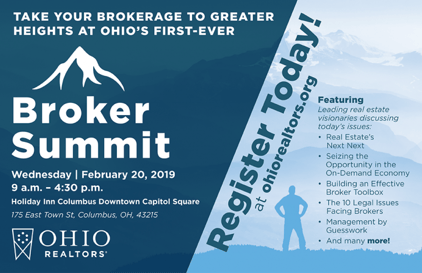 What Topics Were Discussed?
The summit had a packed agenda and included the following discussion topics:
Real Estate's Next Next
Seizing the Opportunity in the On-Demand Economy
The Top 10 Legal Issues Facing Brokers
Management by Guesswork
Federal and State Regulatory/Legislative Update
The Broker's Toolbox: Tools, Tips, and Techniques for Building Your Real Estate Brokerage
What Was the Goal of This Event?
The objective of the summit was to reinforce the importance of the following tools of the real estate trade:
Maintaining the right attitude
How to set realistic goals
Time management skills
The importance of technology and social media
How to follow up with clients
How Can I Get Into the Real Estate Business?
Hocking College in Nelsonville, OH offers an online certificate program that allows students to obtain a Certificate of Completion in Real Estate. In one semester, certificate holders will be prepared to take the state of Ohio's Real Estate exam.
The goal of this online program is to set you on a path to explore a variety of career options and opportunities in this challenging and highly profitable business. Students who enroll in this program will receive instruction in the following areas:
Real Estate Practices & Principals
Real Estate Law
Real Estate Finance
Real Estate Appraisal
In the end, students can receive their Occupational Certificate in Real Estate and will be qualified to take the state of Ohio's Real Estate exam.
For more information on this program, contact the Program Manager, Micah Covert, by email at covertm29000@hocking.edu or by phone at (740) 753-7213.