April is National Canine Fitness Month, National Pet First Aid Awareness Month, and National Heartworm Awareness Month. The Animal Assisted Therapy Program and the Canine Certificate Program at Hocking College are celebrating the entire month with classes, workshops, and certifications that help keep everyone's four-legged friends happy and healthy!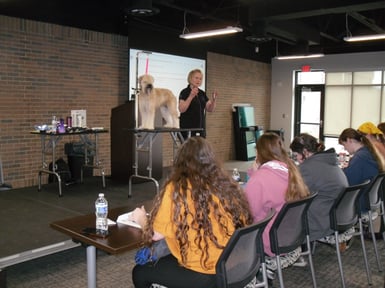 On April 9th and 10th, Hocking College hosted a Continuing Educational Workshop and Certification Testing Session with the National Dog Groomers Association of America (NDGAA). The NDGAA offers many continuing education opportunities for dog groomers throughout the year to improve their current skills, learn new techniques, industry trends, and professional networking. These sessions were held at the college's Board and Grooming Facility and The Lodge at Hocking College.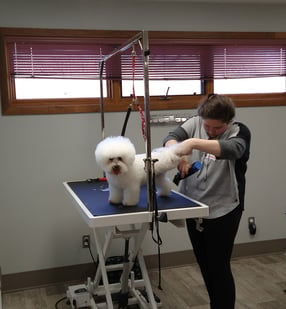 On Saturday, Hocking students and groomers from surrounding states saw demonstrations of the grooming profiles needed for certification. On Sunday, during the private testing session, groomers from Ohio, Pennsylvania, and Michigan tested for certification. Julie Flesher, a Hocking graduate of the Animal Assisted Therapy Program, passed the grooming exam and is now a Certified Groomer with NDGAA.

Cynthia Conner, Program Manager of the Canine Animal Assisted Therapy Program at Hocking College, said, "people travel from all over the area to come to these test sites and we are honored to be one. They enjoy coming to our testing site due to the hospitable environment we provide for them. They enjoyed it and loved our facility."

Hocking also offered Obedience Manners Classes to the local community for dogs five months or older that started at the end of March. This class is focused on obedience and command training for young and adult dogs. They meet for six weeks in a row, for an hour each week to learn and practice different commands.

In the Canine Animal Assisted Therapy Program, students this month focused on earning first aid certifications during their Boarding and Emergency Care course. They also covered heartworm prevention, discussing how infection by these parasites can happen and how to prevent it.

If you'd like more information about Hocking College's Animal Assisted Therapy Program or the Canine Certificate Programs, contact the admissions office at admissions@hocking.edu or call 740-753-7050.