When a college student gets a part-time job, it typically involves them working in the food service, child care, lawn care, or retail industries. However, Hocking College student, Jacob Raber, became the exception to the rule when he secured a position at Butterfly Ridge.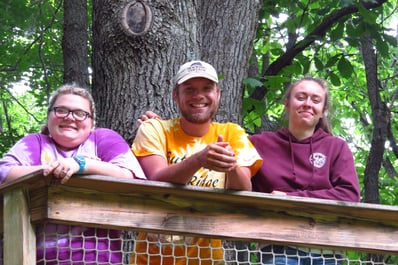 A native of Wooster, OH, Raber is majoring in Wildlife Resources Management at Hocking College where he is learning how to identify fish and plant life, as well as how to collect field data.
Raber got the opportunity to expand his job skills after he attended a function sponsored by Hocking College's Parks & Museum Education Program that was also attended by a representative from Butterfly Ridge.
Then, after responding to a link the the representative sent out to students, he soon found himself working there.
What is Butterfly Ridge?
Located in Rockbridge, OH, Butterfly Ridge is a 21-acre conservation habitat that focuses on nurturing and celebrating the health and well-being of butterflies native to Southeastern Ohio.
Butterfly Ridge opened in July 2017 and is a habitat limited liability company that is owned and operated by Christopher and Kris Kline.
The Kline's creation functions as an environmental education facility with classes, a gift shop, and a one-mile hiking trail. Butterfly Ridge's ongoing mission is to develop habitat for pollinators in general and butterflies specifically, and to teach others to do the same.
What Does Raber Do at Butterfly Ridge?
According to Raber, a typical day involves doing morning checks of the Caterpillar House and the green house where plants such as milkweed and spice bush grow.
In addition, Raber occasionally leads tours, assists on bird walks, and helps organize moth lighting events.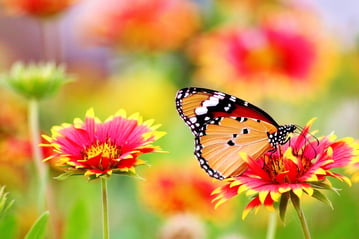 What is a Caterpillar House?
A caterpillar house is an enclosed habitat that allows observers to watch caterpillars evolve from chrysalis to butterfly. In order for them to thrive and mature, the insects must be kept out of direct sunlight, stored in a dry space, and provided with access to a host plant for feeding purposes.
What's a Moth Lighting Event?
Moth lighting events occur at night and begin with the creation of a lure, which is a white sheet that's hung on a line with a bright light set up behind it. The light illuminates the sheet for the purpose of luring moths. Eventually, the moths become attracted to the light and land on the hanging sheet. This makes the moths easier to view and be appreciated by spectators.
What Did Raber Learn While Working at Butterfly Ridge?
Raber stated that working at Butterfly Ridge reinforced his desire to work in the Wildlife Resources Management field and invigorated his interest in contributing to research-oriented projects.
In conjunction, his boss Christopher Kline noted that "Jacob has been very flexible and willing to tackle anything." He added that, "he helps with trail maintenance, invasive plant species control, and assisted building (a) new stage. We have learned recently that he's very good at finding caterpillars as well!"
Does Butterfly Ridge Rehire Students?
Raber noted that every summer Butterfly Ridge does rehire one employee who had worked for them during the previous summer.
Can You Give Me More Information on Hocking College's Wildlife Resources Management Program?
Hocking College's Wildlife Resources Management Program is a hands-on, experience-based curriculum. In this program, students will actively learn and practice field skills that they'll only hear about in other more traditional wildlife management programs.
Due to smaller class sizes, students get the crucial one-on-one time with their instructors they'll need to excel in their classes, and develop a strong conceptual understanding of wildlife management, ecology, and conservation.
Students who graduate with an Associate of Applied Science in Wildlife Resources Management from Hocking College will be qualified to perform the following core skills:
Identify specific forms of wildlife, fish, and plants.
Collect field data through surveys, capture and population sampling.
Accurately read maps.
Operate a watercraft.
Properly use field equipment.
Since a majority of job openings require a two-year wildlife degree, this program would be a perfect fit for anyone seeking a career in the fish and wildlife management industry.
For more information on Hocking College's Wildlife Management Program, contact Lynn Holtzman by email at holtzmanl@hocking.edu or by phone at (740) 753-6274.