Community Food Initiatives, which is a recent partnership between Hocking College's Agroecology program and Tri-County Career Center's (TCC) Culinary Arts program, will be supplying local non-profits and food banks with fresh, home-grown vegetables.
How did the Seeds for this Project Get Planted?
This project began last spring under the direction of Hocking College's Farm Manager, Dan Kneier. Assisted by Hocking College Farm Manager, Daniel Kneier, they began the process of transforming an abandoned 50 by 50 plot of land behind TCC into a working garden.
According to Kneier, the clean up process took four weeks to complete and required him to invest 15-20 hours each week.
How was the Work Distributed?
Once the garden beds were ready, Kneier planted the seeds and Agroecology students helped nurture each crop's development. Afterwards, the culinary arts students harvested the vegetables, cleaned them, and came up with recipes to utilize them.
The students have harvested over 50 lbs. to date, including cherry tomatoes, potatoes, sweet potatoes, peppers, carrots, and some herbs.
What was the Goal of this Project?
The goal of this garden project is to teach students a biological approach to gardening. The Agroecology program is a fantastic opportunity to offer students hands-on gardening experience, as well as to explain the why behind every task they undertake.
Will There be More Projects Like this in the Future?
Hocking College's Agroecology program is currently in the process of creating a seven-acre farm at the school's Logan Campus. This farm will feature a market garden, high tunnels for season extension and winter production, as well as examples of permaculture design with perennial crops such as fruits and herbs. In addition, the farm will also demonstrate resilient pasture management for small livestock.
How Can I Get Involved?
If you're interested in gardening & farming, perhaps you should consider Hocking College's Agroecology program. This program combines the essential lessons from our agricultural ancestors with the latest scientific tools and research to create a holistic approach to soil health, leading to nutrient dense plants and animals. In only four semesters, you could graduate with an Associate of Technical Study in Natural Resources in Agroecology.
What Will I Learn in the Program?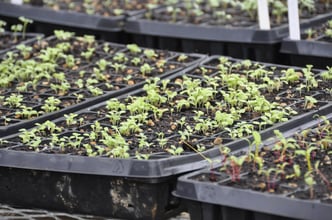 Students who enroll in the Agroecology program will learn:
Small farm entrepreneurship
Botany and soil science
Indoor & outdoor crop production
Irrigation & water treatment
Ecology & regional environmental issues
To find out more about this program, please contact Agroecology Program Manager Sasha Sigetic by email: sigetics@hocking.edu or by phone: (740) 753-6283..