Hocking College's newest Equine Science Program Manager, Bethany Siehr, admiration for horses began in grade school when a fellow student she befriended invited her to go riding.
A native of Waukesha, WI, Siehr decided to attend the University of Wisconsin in 2004 after graduating high school. At the time, her plan was to become a professional horse trainer; however, once Siehr got an opportunity to teach an actual class, she immediately began rethinking her plans and became a teaching assistant instead.
After earning her Bachelor of Science in Animal Science from the University of Wisconsin in 2009, Siehr became a student at New Mexico State University from 2010 to 2012. This was followed by her accepting a position at a high school as an agricultural teacher in Arizona.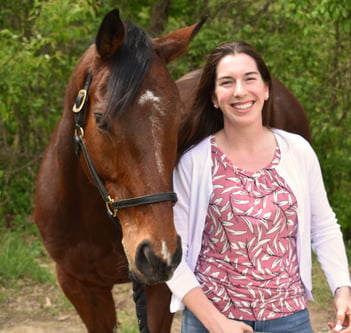 On top of being a teacher, Siehr has also managed traveling show barns, was a professional equine groom, managed animals for a guide operation, and has shown and trained horses.
Some of her additional accolades include being the recipient of eight prestigious grants, doing professional research, being a published author, and serving as a chaperone for a veterinary trip to South Africa in 2013.
In 2014 Siehr obtained her Masters of Agriculture from New Mexico State University. That same year she joined Wilmington College as an assistant professor of Equine Business Management.
In 2019, she was encouraged by friends in the equine industry to apply for the Equine Science Program Manager position at Hocking College, a position she enthusiastically accepted.
In this new role, Siehr has a goal to "pay homage to the program's rich history and incorporate current industry trends into the curriculum." She stated the changes she intends to make won't officially go into effect until 2020.
Some of Siehr's goals for the program include promoting the unique aspects of the programs, as well as making Certified Horsemanship Association (CHA) and American Farrier Association (AFA) testing available to students. She noted that having access to these certifications will make it possible for students to graduate with both an associate degree and a certificate from a national organization that will make them more marketable to potential employers.
Where Can I Get More Information About Hocking College's Equine Science Program?
Hocking College in Nelsonville, OH offers several equine programs, including:
For more information about the equine programs listed above, contact Bethany Siehr by email at siehrb@hocking.edu or by phone at (740) 753-6282.