Hocking Hawks' basketball player, Azende Johnson, has officially been named the National Junior College Athletic Association (NJCAA) Third Team All-American. This is in addition to his many lists of achievements which includes the following: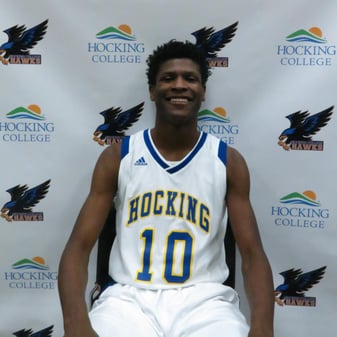 District 11 Player of the Year
1st Team All-District 11
1st Team All-Region 12
District 11 All-Freshman Team
2nd Team All-OCCAC
Top scorer among D-III players in OCCAC; 18th in the nation D-III
In response, Hocking College Men's Basketball Head Coach, Ryan Miley, stated, "we are extremely proud of the national recognition Azende has received for his accomplishments this season. He has represented the school, team, and himself extraordinarily well and continues to push others to better themselves daily. This is a great honor for him as well as Hocking College. I know he is grateful for all the support he has received to help him reach this goal. "
In addition, during the week of November 5-11, 2018, Johnson was named NJCAA Division-III Player of the Week.
He had scored 106 points in three games that week, shooting 64% and adding 25 rebounds and 16 assists. In the game against Lorain County Community College, he broke the Hawks' school record with 47 points in a single game.
In that same week. Johnson was named the Ohio Community College Athletic Conference's (OCCAC) Division-III Player of the Week.
Johnson was also among the Top 20 point-producers in the country in NJCAA D-III, averaging 21.1 points per game during the 2018-19 season.
A 2016 graduate of Walnut Ridge High School in Columbus, OH, Johnson is majoring in Business Management at Hocking College.