Are you looking for a career that is in high demand and pays well? If so, you should consider becoming a dental hygienist.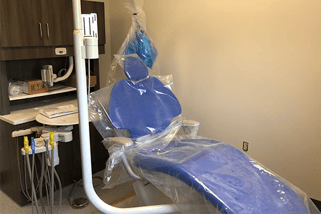 In only two years, students can graduate from Hocking College's Dental Hygiene Program with an Associate of Applied Science in Dental Hygiene degree.
Located at Hocking College's Perry Campus in New Lexington, OH, the new Dental Hygiene Program offers students the required training in general education, biomedical sciences, dental sciences, and dental hygiene sciences they'll need to succeed.
Students who successfully complete this program will be eligible to take the national and regional board exams, and the state law exams in order to become a registered dental hygienist.
What Skills Will I Learn in the Program?
Students who enroll in Hocking College's Dental Hygiene Program will obtain the following skills:
Removing hard and soft deposits from teeth 

Using an ultrasonic scaler to clean/polish teeth 

Applying sealants and fluoride to teeth
Assessing a patient's oral health 

Reporting any important findings to a dentist 

Documenting patients' ongoing treatment and care
Advising patients on their oral health care habits, which includes brushing, 
flossing and the use of appropriate dental hygiene aids
Exposing and assessing radiographs
Understanding the oral health needs of specific age groups
Administering local anesthesia, nitrous oxide-oxygen sedation, and other pain 
management techniques
What Qualifications Do I Need to Meet?
Students who plan to pursue a degree in dental hygiene need the following academic skills, physical attributes, and desired qualities: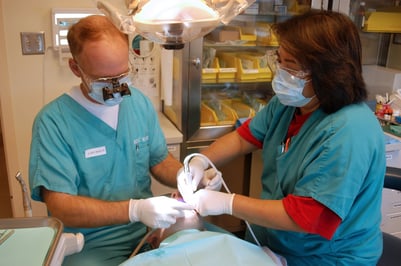 Academic Skills:
High school diploma or GED

Math skills

Computer skills

Written & verbal communication skills
Physical Attributes:
Ability to identify color changes in oral tissue
Perform repetitive wrist motions

Hear and understand a normal speaking voice without seeing the speaker's face
Ability to sit for long periods of time
Manual dexterity

Ability to work in a limited space
Desired Qualities:
Professional attitude
Detail oriented
Organizational skills
Punctuality
In addition, students must also meet the following appearance-based requirements:

Tennis shoes 

Wear their hair up or away from their shoulders 

Wear no jewelry besides a wedding band 

Wear perfume/cologne in moderation 

Where Can I Get More Information on the Program?
For more information on Hocking College's Dental Hygiene Program, contact Program Manager Misti Malfe by email at malfem@hocking.edu or by phone at (740) 753-6460.