Hocking College hosted an Introduction to Wildlife Rehabilitation workshop on Sunday, March 31. Wildlife Rehabilitation, or the process of nurturing orphaned and injured wildlife back to health, interests many people from all walks of life. From what people watch on television, wildlife rehab can appear to be a very glamorous activity, with volunteers gracefully freeing bald eagles into the sky and caring for adorable baby animals.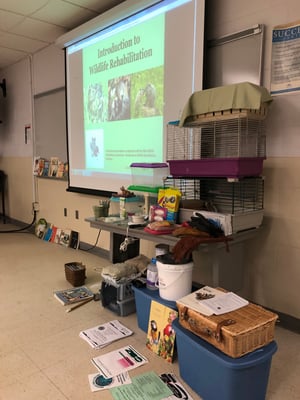 However; in reality, rehabilitation of wild animals involves around-the-clock care, and the understanding that many animals do not survive or are unable to be released back into the wild. Thus, it's truly a labor of love, but can be very rewarding for those passionate enough to put their heart and souls into these animals.
What Took Place at the Wildlife Rehabilitation Workshop?
The Ohio Wildlife Rehabilitation Association (OWRA) President, Kristen Beck, hosted the workshop. Beck has 22 years of experience rehabbing wild animals, and came to campus to share her knowledge on the subject and stories from her own experiences. This is the third time that the college has hosted this popular event, attracting 54 attendees, including students as well as members of the community.
The workshop provided the content and certification needed to apply for a permit to begin rehabbing wildlife from your home. All novice rehabbers begin with rabbits and squirrels, and can then progress to more challenging animals as they gain experience. Attendees leave the workshop with a new perspective on the challenges and commitment that is required to rehabilitate animals, and with a load of information to digest.
The School of Natural Resources was thrilled to host this event once again, and facilitate a greater understanding of this often misunderstood process. The more animal lovers that are educated about "what to do" when they see a wild animal that appears sick, injured, or orphaned, the better.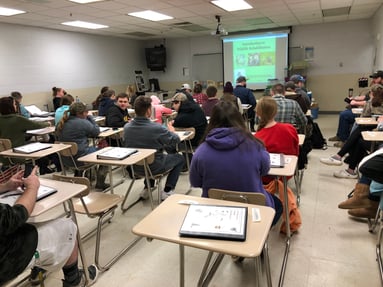 What Are Some Takeaways From This Workshop?
Spring is a common time for many people to encounter baby animals that may appear in distress, but are they really? In general, you should always leave wild animals where they are and avoid disturbing them. Here are some common occurrences and how you should deal with them:
Rabbits: If you encounter baby rabbits in your yard, do not move or touch them. The mother only comes to nurse them under the cover of darkness, and while they appear abandoned, they most likely are not. Place a "X" made with yarn over the nest, and return in 10 hours. If the yarn has not moved, something has happened to the mother and you may consider taking them to a rehabilitation center.
Raccoons: Leave them be! Raccoons are vectors of rabies, distemper, and roundworm, and you should avoid touching them as they will disperse on their own from the den in a few short weeks.
Songbirds: Baby birds will not be abandoned if a human touches them, which is a common misconception. However, many baby birds are learning to fly and this can be an awkward process. You can put a baby bird back into its nest without fear of it being abandoned.
Outdoor cats: Keeping outdoor cats is one of the biggest threats to wildlife, especially nestling birds. If you have outdoor cats, do not have bird feeders or encourage birds into your yard. Or better still, keep your cat inside.
White-tailed deer: Do NOT move a fawn. Does will return at night to nurse their fawn, so while the fawn may appear deserted, they most likely aren't.