Last Thursday, November 29, Hocking College Radio (WLCI) and Blackout Booking hosted Benefest, a 3-night, multi-venue event that took place at Casa Cantina (4 W State St.) and The Union (18 W Union St.) in Athens, Ohio.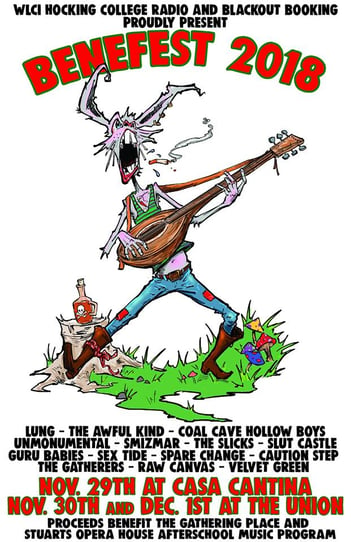 What Was The Purpose of Benefest?
Benefest is an annual event to showcase local and regional talent, as well as to offer students from Hocking College's Music Management program some hands-on experience organizing and managing a live musical event. Students got to work with over a dozen local businesses to support this event through the donation of raffle items such as t-shirts, gift certificates, and more.
The Music Management Program Manager, Scott Winland, noted that "we are super thankful for the venues and organizations that work with us each year to make this happen."
Benefest also gave students a lesson in civic responsibility. Hence, any donations made during the 3 nights were donated to both Stuart's Opera House's Afterschool Music Program and The Gathering Place.
What is Stuart Opera House's Afterschool Music Program?
Stuart's Opera House's Afterschool Music Program provides students who are interested in forming bands with instruction in guitar, bass, vocals, keyboards, and drums. Stuart's Opera House is located at 52 Public Square in Nelsonville, Ohio.
What is The Gathering Place?
Established in 1976, The Gathering Place is a community support program promoting recovery for adults coping with mental illness. They foster recovery by encouraging participants to help and support one another, promoting community involvement and meaningful activity, and by enhancing personal development, well-being, and healthy living. Some of the services they provide include:
Referral assistance & advocacy services
Peer support
Recreational activities
Connections to jobs, housing & wellness programs
The Gathering Place is located at 7 North Congress Street in Athens, Ohio.
What Bands Participated in Benefest?
Some of the bands that took part in this event included LUNG, The Awful Kind, Raw Canvas, Coal Cave Hollow Boys, Sex Tide, Unmonumental, Guru Babies, Caution Step, Smizmar, Slut Castle, Velvet Green, The Slicks, and Spare Change.
Winland reflected that his students "did an amazing job organizing the event this year, putting together a diverse line-up of performers playing for some great local organizations that do so much for our area."
Where Can I Get the Training I Need to Break Into the Music Industry?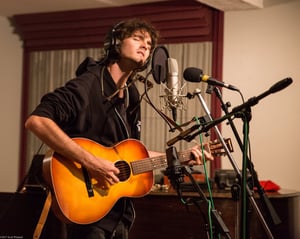 Hocking College in Nelsonville, Ohio has a Music Management program. In only two years you can graduate with your Associate of Applied Business in Music Management degree.
What Will I Learn in This Program?
Students who enroll in Hocking College's Music Management program will learn about the following subjects:
Music licensing & publishing
Electronic music production (making beats)
Music contract negotiation
Tour booking & promotion
Recording studio techniques & mixing concepts
Live sound production
Audio engineering for film & video games
For more information on this program, contact the Program Manager, Scott Winland, by email at winlands14721@hocking.edu or by phone at (740) 753-6126.