Andrew Barhorst was introduced to Hocking College while he and his parents visited Ohio University in Athens, Ohio. During their tour, a staff member told them about Hocking and the different programs they offered.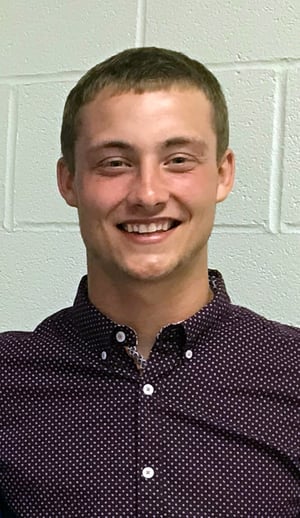 During this conversation, the Sidney, Ohio native discovered that Hocking College was in the process of adding a new Heating, Ventilation and Air Conditioning program to their roster during the Autumn 2020 semester.
"I was motivated to enroll in the program after hearing it was going to be a brand-new program," Barhorst said. "I was anxious to be a part of the first HVAC class to graduate at Hocking College."
So far, his HVAC program classes have covered topics ranging from safety protocols, heating and cooling introductions, the many functions of furnaces, and how to tell if they're not working or operating to their full potential.
Barhorst said he appreciates Program Manager Scott Lindstrom's teaching style saying that Lindstrom's first-hand experience of working in the HVAC industry for years makes the classes and program attractive.
"Mr. Lindstrom is very accessible to me as whenever I needed any help with other school-related issues, he was there to help and answer questions," Barhorst said.
He added that Lindstrom's greatest asset is his ability to achieve a sense of balance between his class lectures and the hands-on training students need to excel in the program.
On one occasion, Barhorst and a partner had to disassemble and reassemble a gas-furnace in two hours — all the while labeling each part they removed.
In response, Barhorst and his partner drew on what they'd learned in their classes, adapted to the situation and made sure they were as prepared as possible to take on this project.
Barhorst said anyone interested in entering the HVAC industry should enroll in Hocking College's program. He elaborated that "the instructor is very experienced and knowledgeable. The classes are filled with benefits such as getting new tools and toolboxes and many pieces of the practice lab equipment are brand new."
Do you want to join the HVAC Industry?
Since Autumn 2020, Hocking College has offered an HVAC degree program. In only two years, students can graduate with an Associate of Applied Science in Heating, Ventilation and Air Conditioning degree.
What skills will you learn in this program?
According to Lindstrom, students who enroll in Hocking College's HVAC degree program will learn the following design, installation, troubleshooting and customer service skills:
How to create manual and computer graphic representations of HVAC/R projects.

How to demonstrate basic competence in HVAC/R system analysis, sizing, piping materials and design piping systems.

How to test and calculate airflow through system equipment.

How to identify electrical safety hazards and quantify these hazards to be able to apply electrical safety procedures.

How to assist in designing preventative maintenance programs for various HVAC/R systems.

How to analyze, test, troubleshoot, and repair components, circuits and basic industrial systems.

How to communicate effectively in a technical environment, including written and oral communication, effective listening and technical presentation.
What's the job outlook for HVAC Professionals?
According to the U.S. Bureau of Labor Statistics, the job outlook for HVAC professionals is booming:
In 2019, the average rate of pay for someone in the HVAC industry was $23.43.

In 2019, professionals in the HVAC industry made a median salary of $48,730 a year.

In 2018, there were 367,900 jobs in this field.

Between 2018-2028, the job outlook for the HVAC industry will experience a 13% growth rate.

Between 2018-2028, there will be 46,400 new positions in the HVAC Industry waiting to be filled.
Why choose Hocking College?
Students who choose to pursue an Associate of Applied Science in Heating, Ventilation and Air Conditioning degree from Hocking College will reap the following benefits:
Hocking College's smaller class sizes mean students get more one-on-one time with their instructors.

Hocking College is one of the few two-year schools in Ohio to offer both a meal plan and residence halls.

Hocking College provides all-inclusive pricing to make sure students know the price of their degree before their classes begin and won't be faced with any hidden fees.

Unlike other HVAC programs in the area, Hocking's is the only one that offers students the chance to earn an associate degree.

Hocking College has professional partnerships with industry employers that can provide graduates with a potential career path.
For more information on Hocking College's new HVAC degree program, contact Scott Lindstorm at lindstroms@hocking.edu or 740-753-6147.