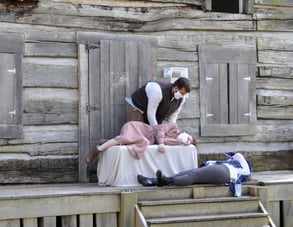 The Hocking College Performing Arts program made up of the Performing Arts Club, the Hocking College Singers, and the Hocking College Band had a very successful 2021-2022 school year and is looking forward to the upcoming year. These students performed and entertained not only the college, but also the local community. Emily Davis, Communications and Theatre Program Manager states, "I am immensely proud of the Hocking College Singers and Band this year, the students, as well as their directors. We have so much talent on our campus and it is such a joy to be able to share that with our community. Our performing arts students come from many different majors all across the campus, and in many different parts of Ohio and beyond. To be in a position where, every day, I get to bring these artists together and help them bring joy to our community through their work, well, it is just an honor to be able to do that!"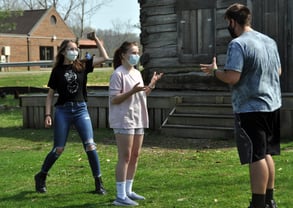 The Performing Arts Club participated in the Halloween Haunt hosted at Robbins Crossing. They were actors dressed up as costumed characters making this event a fun and thrilling experience for those who attended. The club is a non-credit co-curricular group with four elected officers, a president, vice-president, treasurer, and secretary. They meet throughout the year allowing students to participate in creative writing, performing, directing, costume design, and stage management.
They also received a wonderful charitable donation from the First United Methodist Church in Nelsonville, Ohio, to recognize the club's outstanding community engagement and service as student ambassadors of Hocking College. The grant was from the Katie McCoy and Mary Jane McKinley Music Scholars Fund. These ladies were matriarchs of the First United Methodist Church, as well as outstanding music educators and music directors serving local schools, churches, and the community of Southeast Ohio for over 60 years. This fund was created in their name to encourage students to continue in music, dance, and drama through school and community service.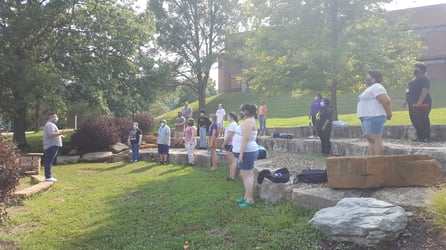 The Hocking College Singers is a for-credit class that shared their vocal talents with the campus and surrounding community, singing at a variety of events this year. They performed at All Hocking Learning Day, the Fall Performing Arts Showcase at The Lodge, as well as the Spring Showcase. They also performed at all three graduation ceremonies at Hocking College and delighted the congregation at the First United Methodist Church Nelsonville. Click here to watch the Hocking College Singers' performance at the First United Methodist Church. Devin Sudman, the choir director, brings a wealth of experience to the group. Sudman has a Master of Arts Administration in Theatre Management and a Bachelor of Music in Voice and Conducting from Ohio University. He currently works as the Education Director at Stuart's Opera House and the Music Director for ABC Players, the local community theatre.
The Hocking College Band spread their school spirit while performing at several home football games. They also shared their musical talents at the Earth Day Festival in Nelsonville, the Fall Performing Arts Showcase at The Lodge, the Spring Showcase, and all three graduation ceremonies at Hocking College. Kenny Taylor is the Band Director.
The Performing Arts Students also used their talents to entertain guests by performing an interactive murder mystery during the Hocking College Foundation Annual Spring Gala, which contributed to raising money for the Foundation.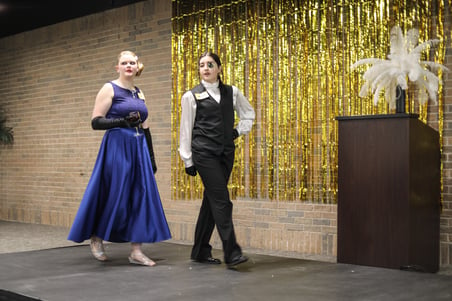 For the 2021 - 2022 academic year, 22 students who participated in band or choir received scholarships totaling $32,000 from Hocking College. For students to be eligible for this scholarship, they need to be enrolled as full-time students with at least 12 credit hours per semester in an eligible degree or certificate program at Hocking College, they must register for MUS-1134 (Hocking College Band) or MUS-1131 (Hocking College Singers), maintain satisfactory academic progress (SAP guidelines), and complete the FAFSA for the year the scholarship is to be applied.
If a student would like to apply for the Band and Choir Scholarship, they must submit a 1-2 minute video audition, either singing or playing one song in its entirety that showcases their range of talent. To submit your audition, click here. If you have questions about submitting your audition, please contact Emily Davis at 740-753-6137 or email davise37786@hocking.edu.
Davis is looking forward to the upcoming school year, "we have several events planned for the upcoming season, some of which I am keeping a lid on for now, but keep an eye out! Our pep band can be enjoyed at all home football games this fall, which is really exciting! And we plan to continue to be involved in community events such as the Halloween Haunt, and the Earth Day Festival."