Anyone planning on becoming a professional Medical Laboratory Technician (MLT) will need to become skilled in lab safety procedures.
The following blog details what all MLTs need to know in order to keep themselves and the samples they're working with free from harm.
What is a Medical Lab Technician?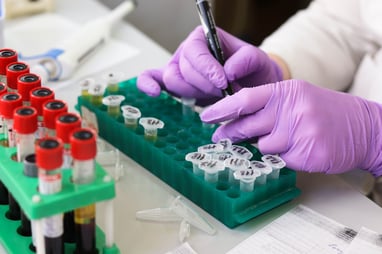 The healthcare industry is full of careers that do not involve direct patient care, but still have a positive impact on people's health. A medical lab technician (MLT) is an excellent example of these opportunities.
MLTs work in a laboratory setting, collecting and conducting tests on specimens. The result of these tests are then sent to the medical team who will diagnose and treat the patient.
MLTs are the laboratory's generalists and are typically trained in a two-year associate degree program at a community college, hospital, trade or vocational school. They work under the supervision of pathologists or laboratory technologists/scientists.
The tests performed by a MLT are on blood and bodily fluids using microscopes, manual tests, and automatic analyzers. These tests help detect abnormalities or diseases. They use computers, mechanical, and electrical devices to help perform their daily tasks. The lab techs are also trained in safety, quality and troubleshooting.
There's currently a shortage of qualified laboratory personnel due to baby boomers retiring, retention, and the lack of training programs.
What Do MLTs Wear For Safety Protocol?
MLTs wear a variety of items in order to protect themselves from harm, including the following items:
Lab Coats. Lab coats protect MLTs and their clothing from potentially being contaminated. For this same reason they should never be worn outside of the lab as well.
Comfortable, Closed-Toe Shoes. This type of footwear protects MLT's feet in case they're exposed to broken glass or sharp objects that may have fallen on the floor.
Gloves. Gloves always need to be worn by MLTs when they're working with blood and body fluid specimens, or performing any sort of lab-oriented procedure. Wearing gloves also prevents any cuts or abrasions they might have from being exposed to bio-hazardous materials.
Protective Eyewear and/or Face Mask. These prevent MLTs from being exposed to hazardous aerosols.
What's the Safety Protocol When MLTs Are Working in a Lab?
MLTs spend many hours in the lab, so they need to make sure to not do the following while working in the lab:
Eat or store food/drink
Smoke
Apply cosmetics or lip balm
Handle contact lenses
Keep pencils/pens out of their mouth
In addition, MLTs need to keep their hair, clothing accessories (i.e ties & carves), and jewelry securely tied back.
Lastly, they need to wash their hands frequently.
Where Can I Get the Training I Need to Become a Medical Lab Technician?
Students who enroll in Hocking College's Medical Lab Technician Program can obtain their Associate of Applied Science in Laboratory Sciences in only two years. This program will provide them with the skills they need to collect samples and perform tests to analyze bodily fluids and other substances. Students will also have the opportunity to participate in practicums at local hospital laboratories.
For more information, contact the MLT Program Manager, Kimberly Ephlin, at (740) 380-9315 (ext. 6602).