If you're looking for a career path that will offer you financial stability, then you should consider becoming an emergency medical services (EMS) professional.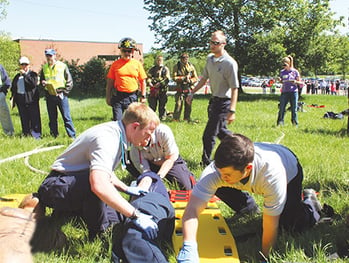 What's an EMS Professional?
Emergency Medical Service workers are certified as first responders, basic or intermediate emergency medical technicians (EMTs), or paramedics. In addition, some EMS workers go on to serve as educators and administrative personnel who coordinate emergency responses.
Anyone who goes into this profession must also be able to cope with high-stress situations that can be fast-paced, as well as emotionally and physically demanding.
Normally, EMS workers travel to accident scenes in emergency vehicles or helicopters. Depending on the severity of the situation, they may perform any or all of the following duties:
Administering basic physical exams
Assessing patients' trauma levels
Administering oxygen
Inserting IVs
Intubating victims
Using cardiac monitors and manual defibrillators
Helping to create disaster preparedness plans
What Are Some More Positive Aspects of This Profession?
According to the U.S. Bureau of Labor Statistics, the following are some positive aspects of becoming an EMS professional:
There were 248,000 EMS employees working in the U.S. in 2016.
The job outlook for 2016-26 indicates that there'll be a 15% increase in EMS positions.
The median pay for an EMS employee is $34,320.
Work experience in a related field is not required in order to become an EMS worker.
How Do Job Opportunities for EMS Workers in Ohio Measure Up Against Other States?
The U.S. Bureau of Labor Statistics states that in May 2018 the highest published employment, location quotients, and wages regarding EMS workers in Ohio ranged from 6,810 — 21,430.
Where Can I Get the Training I Need to Become an EMS Worker?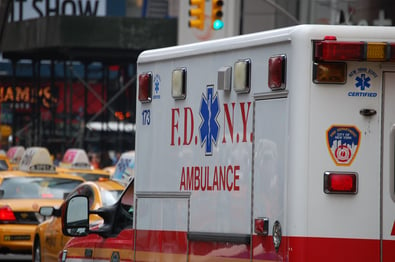 Hocking College in Nelsonville, OH offers a Fire & Emergency Medical Services Program. In five semesters, students graduate with an Associate of Technical Study in Fire & Emergency Medical Services and can begin working in this exciting and rewarding field.
Students might start off in this program by scheduling fire courses the first year, or they may choose to begin with emergency medical courses.
This program offers Firefighter I and II, EMT and Paramedic certification courses over five semesters. Fire classes follow standards established by the National Fire Protection Association 1001 and the Ohio Department of Public Safety.
For more information about the EMT program, contact the EMS Program Manager Robert Cornwell by email at cornwellr@hocking.edu or by phone at (740) 753-6476.
For more information about the Fire program, contact the Fire Sciences Program Manager Rick Best by email at bestr35625@hocking.edu or by phone at (740) 753-6493.