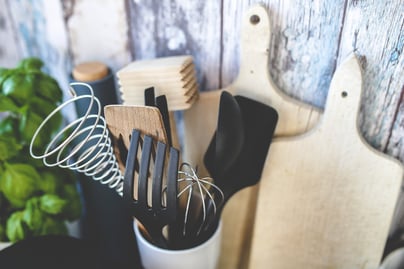 With the holiday season right around the corner, there is probably someone on your gift list who loves to cook or bake.
In anticipation, we asked Chef Susie Krutsch, program manager of Culinary Arts programs to tell us the kitchen tools that she can't live without so that you can get the perfect gift for that chef in your life.
1. A Good Chef's Knife
No good chef is complete without a great chef's knife. Chef's knives are used for cutting meat, dicing vegetables, disjointing some cuts, slicing herbs, and chopping nuts.
Susie said, "I'm partial to Global, but Shun or Wustof are good choices as well."
2. Microplane
Does the chef in your life love to zest lemons and limes, or add a bit of cheese to a pasta dish? Make sure they have the best of the best!
"I like the actual Microplane brand -- not knock-offs. It has just the right raised cutting level for zesting citrus and cheese," said Susie.
3. Wooden cutting board
Susie said that a wooden cutting board is "often overlooked as an essential tool, but it's very important."
She specifically recommends maple or oak boards -- but especially Boos Block boards -- because it dulls the knife less, won't let food slip as much, and it is proven to harbor less bacteria than its plastic counterparts. According to Susie, Boos Block boards are very high quality and last forever.
4. Metal spring-loaded tongs
Metal spring-loaded tongs are a staple in any kitchen. Chef Susie recommends 12" OXO brand; however, she advises against similar tongs with nylon tips.
"I am not a fan of the ones with nylon tips," she said. "They melt under high heat. Metal tipped are the best."
5. Y-shaped peeler
A simple vegetable peeler can be one of the most useful tools in your kitchen. Chef Susie is particularly partial to the colorful Kuhn-Rikon Swiss Peeler (only $5 on Amazon!).
6. Heat-proof rubber spatula
No kitchen is complete without a few spatulas and Chef Susie recommends the Vollrath 10" or 12" High Tempature Silicone Spatula.
According to her, "This is the best rubber spatula out there. It's seriously strong and lasts forever. It used to be only available through restaurant suppliers."
7. Sturdy whisk with heatproof handle
Whisking serves two purposes, stirring and incorporating air. That is why it is number seven on Chef Susie's list of must-have kitchen utensils.
According to her, the Sur La Table Wood Handled French Whisk is top of the line. "I reach for [my whisk] time and time again," she said. "[It's] narrow enough to get in the corners of a saucepan and well-built. I have had the same one for 20 years."
8. Meat thermometer
Making sure raw meats are fully cooked is an essential part of cooking for others. Chef Susie recommends the digital waterproof thermometer by CDN.
According to Chef Susie, "
Our Culinary students get these in their knife kits. NSF commercial grade so you know it is well built and lasts and it does."
---
ABOUT SUSIE KRUTSCH
Susie Krutsch joined the Hocking College team in July 2018 and has worked in the restaurant industry since she was 8 years old.
She has had the pleasure of both studying and teaching in some of the top culinary institutes in the nation, including Kendall College, Sur La Table, and the Chopping Block. Before coming to Hocking, she operated Shaw's Restaurant & Inn in Lancaster for more than 12 years.
Cooking is her passion and she loves sharing that passion with her students!