Carlee Lehman's ultimate goal is to one day open a restaurant. For her to reach that goal, she knew she needed to learn everything to do with cooking and also about business. Hocking College was the perfect choice for her to develop these skills because the college offers two programs instrumental in opening a restaurant.
Lehman enrolled in the Culinary Arts and the Business Management and Entrepreneurship programs. "I like that the culinary degree is mostly hands-on and works a lot to make sure all of your skills are exactly where they should be. While the business program constantly pushes you to work the hardest you can on a project, making sure there are little to no errors," Lehman states.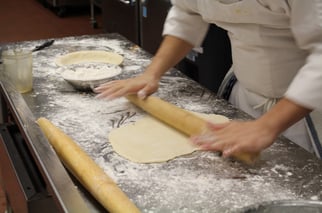 She knew about Hocking College from her father, who attended classes when he was younger, and from growing up in nearby Little Hocking, Ohio. It was her perfect choice for school because of how close it was to home and much more affordable it is compared to four-year institutions. Hocking also offered culinary and business courses among their plethora of programs.
Lehman can't recall a time when she wasn't in the kitchen helping her parents cook. She loved watching them create meals for their family. She also loved watching cooking shows, which amazed her at the participants' abilities to make something incredible without any recipes. Her desire to learn to cook like that initially prompted her interest in cooking school.
Lehman's favorite class thus far has been Intro to Baking, where she learned the basics. This class was also a glimpse into everything she'd learn in the entire culinary program, which excited her about her education at Hocking.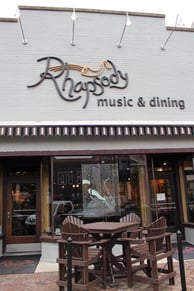 This fall, she is looking forward to learning and working with Chef Otis at Rhapsody, the college-owned restaurant in downtown Nelsonville. Lehman has always enjoyed working in a fast-paced restaurant environment. She feels this experience will teach her so much, adding to the countless skills she's learned since starting classes at Hocking. She also loves how the faculty and staff are so willing to help students when issues arise. One of her favorite instructors is Chef Angela, who makes her classes not only fun but also interesting, and is one of those instructors who will go the extra mile for anyone taking her class. Lehman's favorite thing to cook currently is different cuts of meat. She loves the variety and the challenge of knowing it doesn't take much to mess it up.
Lehman has also enjoyed the opportunity to meet so many people at Hocking and has made wonderful friends she never would have met if it wasn't for her classes or the clubs the school offers. She's a member of the Epicurean Club, which centers around enjoying the finer culinary things in life. The club has two chefs running it where they demonstrate different types of food such as sushi or macaroons, which she's enjoyed learning about. Lehman also just joined the Esports Team and is excited to be part of Call of Duty: Warzone. Lehman also works 16 hours a week in the Workforce Office while juggling two programs. The workload has been challenging, but the time management skills she's learning to keep her on top of classes, assignments, and work schedules will be put to good use in the culinary industry.
Lehman is excited to graduate in spring 2023 and states when asked about finding a job in her field after graduation, "I feel extremely confident! With my background in working at restaurants and other food establishments along with the training I am getting from Hocking College, I feel very ready to get a job cooking at a restaurant somewhere and work my way up to running my own place."
To learn more about Hocking College email admissions@hocking.edu or call 740-753-7050.