Last month, Hocking College EMS Program Manager, Robert Cornwell, was named the 2019 recipient of the John P. Moore EMS Award for Excellence at the Ohio EMS Conference held on May 20 – 21 in Columbus, OH.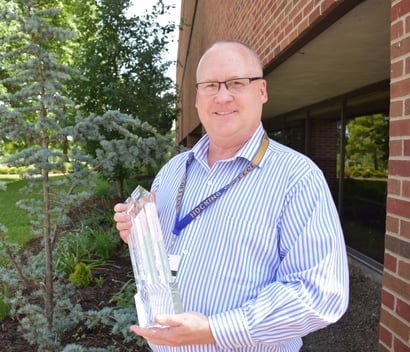 The award, which is presented by OhioHealth, honors the legacy of Moore, who was an invaluable member of the OhioHealth Grant Medical Center family. For 25 years, Moore served as a
part-time paramedic instructor
at Grant, and was one of three paramedic instructors for the Columbus Division of Fire.
Moore dedicated his professional life to the continued success of the Grant Trauma program and Grant's LifeLink program. His contributions to the improvement of care for pre-hospital patients through his efforts at the Columbus Division of Fire, Grant LifeFlight, Grant LifeLink and Grant's Paramedic School are invaluable.
The purpose of the award is to recognize, appreciate, and celebrate the recipient's accomplishments and contributions, as demonstrated through his or her actions as an EMS advocate, educator, leader, mentor or provider.
Nominees for The John P. Moore Memorial EMS Award for Excellence had to meet the following criteria:
Be an EMS provider, with a current and valid certification issued by the State of Ohio, Division of EMS as an Emergency Medical Responder, Emergency Medical Technician, Advanced Emergency Medical Technician or Paramedic.
Be an EMS provider with no disciplinary actions against them by the Ohio State Board of Emergency Medical Services.
Be a member in good standing of a recognized EMS organization that responds to emergencies and other requests, including those made by the public-at-large.
Meets the spirit of the award description.